01.12.2018 | Research | Ausgabe 1/2018 Open Access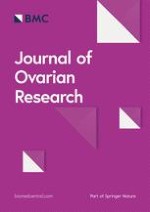 Establishment and molecular characterization of a human ovarian clear cell carcinoma cell line (FDOV1)
Zeitschrift:
Autoren:

Wei Jiang, Shuang Ye, Libing Xiang, Wentao Yang, Tiancong He, Xuan Pei, Lin Guo, Huijuan Yang
Wichtige Hinweise
Electronic supplementary material
Wei Jiang and Shuang Ye contributed equally to this work.
Abstract
Background
Ovarian clear cell carcinoma is a distinct histologic subtype with grave survival. The underlying molecular mechanism is not fully elucidated. However, we don't have many cell lines, which are useful experimental tools for research. We describe the establishment and characterization of a new ovarian clear cell carcinoma cell line from a Chinese patient.
Results
FDOV1 has been subcultured for more than 80 generations. Monolayer cultured cells are polygonal in shape, showing a transparent cytoplasm full of vacuoles. The number of chromosomes ranges from 45 to 90. FDOV1 cells produces CA-125, but not CA-199. The cells could be transplanted and produced tumors mimicking the donor tumor morphologically and immunohistochemically. Whole exome sequence showed both FDOV1 and tissue block harbored PIK3CA H1047R mutation and ARID1A frameshift mutations (p.L2106 fs, p.N201 fs). More interestingly, we observed SPOP mutation (p.D82H) and ZNF217 (chromosome 20q13) amplification in FDOV1, which are quite novel.
Conclusions
Only a few patient-derived ovarian clear cell carcinoma cell lines have been reported in the literature. FDOV1 is the very first one, to the best of our knowledge, from a Mainland Chinese patient. It showed infinite multiplication until now and tumorigenicity in vivo. FDOV1 has co-existing PIK3CA and ARID1A mutations. It also harbored SPOP mutation and ZNF217 amplification, which would probably be a good model for exploring the molecular mechanism of ovarian clear cell carcinoma.