01.12.2017 | Research article | Ausgabe 1/2017 Open Access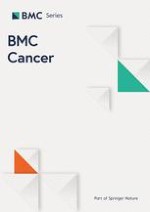 Establishment of patient-derived gastric cancer xenografts: a useful tool for preclinical evaluation of targeted therapies involving alterations in HER-2, MET and FGFR2 signaling pathways
Zeitschrift:
Autoren:

Haiyong Wang, Jun Lu, Jian Tang, Shitu Chen, Kuifeng He, Xiaoxia Jiang, Weiqin Jiang, Lisong Teng
Wichtige Hinweise
Electronic supplementary material
The online version of this article (doi:
10.​1186/​s12885-017-3177-9
) contains supplementary material, which is available to authorized users.
Abstract
Background
Targeted therapies are emerging treatment options for gastric cancer (GC). Patient-derived tumor xenograft(PDX) models of GC closely retain the features of the original clinical cancer, offering a powerful tool for preclinical drug efficacy testing. This study aimed to establish PDX GC models, and explore therapeutics targeting Her2, MET(cMet), and FGFR2, which may assist doctor to select the proper target therapy for selected patients.
Methods
GC tissues from 32 patients were collected and implanted into immuno-deficient mice. Using immunohistochemistry(IHC) and fluorescent in-situ hybridization (FISH), protein levels and/or gene amplification of Her2, cMet and FGFR2 in those tissues were assessed. Finally, anti-tumor efficacy was tested in the PDX models using targeted inhibitors.
Results
A total of 9 passable PDX models were successfully established from 32 gastric cancer xenograft donors, consisting of HER2,cMet and FGFR2 alterations with percentages of 4(12.5%), 8(25.0%) and 1(3.1%) respectively. Crizotinib and AZD4547 exerted marked antitumor effects exclusively in PDX models with cMet (G30,G31) and FGFR2(G03) amplification. Interestingly, synergistic antitumor activity was observed in G03 (FGFR2-amplifed and cMet non-amplified but IHC [2+]) with simultaneous treatment with Crizotinib and ADZ4547 at day 30 post-treatment. Further in vitro biochemistry study showed a synergistic inhibition of the MAPK/ERK pathway. HER2,cMet and FGFR2 alterations were found in 17 (10.4%), 32(19.6%) and 6(3.7%) in a group of 163 GC patients, and cMet gene amplification or protein overexpression(IHC 3+) was associated with poor prognosis.
Conclusions
These PDX GC models provide an ideal platform for drug screening and evaluation. GC patients with positive cMet or FGFR2 gene amplification may potentially benefit from cMet or FGFR2 targeted therapies or combined targeted therapy.