06.04.2018 | Original Article | Ausgabe 5/2018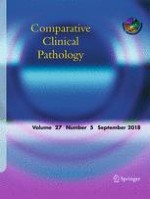 Estimation of telomerase, AFP, and AFP-L3 levels in Sudanese patients with hepatocellular carcinoma and chronic liver diseases
Zeitschrift:
Autoren:

Fayza A. Rahamtalla, Mohammed S. M. Abdalla, Salma B. M. Mudawi, Mohammed A. H. Kheir Elsid, Iman M. Shammat
Abstract
Telomerase enzyme activity is considered a widespread and relatively selective tumor cell marker feature that can be used for detecting the presence of various neoplastic cells. The positive activity of telomerase enzyme was also recorded in chronic liver disease and is evaluated as a more appropriate biomarker for differentiating hepatocellular carcinoma (HCC) from chronic liver diseases. The current study aimed to evaluate telomerase, AFP, and AFP-L3 levels in Sudanese patients with hepatocellular carcinoma and chronic liver diseases. The study enrolled 113 patients: HCC (
n
= 33), cirrhosis (
n
= 33), and chronic hepatitis (
n
= 47), jointly with 50 healthy controls. Enzyme-linked immunosorbent assay (ELISA) technique was used to estimate the telomerase, AFP, and AFP-L3 levels in blood samples. The telomerase level was elevated in 70% of HCC patients, and it was significantly higher in HCC patients compared to that in healthy controls (1.38 versus 0.35 ng/ml, respectively;
P
< 0.01). Serum alpha-fetoprotein (AFP) and
Lens culinaris
agglutinin-reactive (AFP-L3) levels were also significantly elevated in HCC patients compared to healthy controls (130.76 versus 5.59 ng/ml;
P
< 0.01) and (59.76 versus 0.49 ng/ml;
P
< 0.01), respectively. The combination between telomerase and AFP or AFPL-3 lead to increased telomerase sensitivity (85 and 79%, respectively).Telomerase was found to be further sensitive in patients with a tumor size of less than 5 cm as well as to tumors of more than 5 cm. Two healthy control samples showed an increase in telomerase level. The combined use of telomerase, AFP, and AFP-L3 levels might be useful for achieving better sensitivity for HCC patients.