01.12.2017 | Research article | Ausgabe 1/2017 Open Access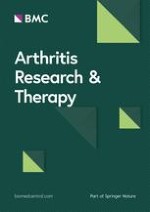 Estrogen attenuates the spondyloarthritis manifestations of the SKG arthritis model
Zeitschrift:
Autoren:

Hyemin Jeong, Eun-Kyung Bae, Hunnyun Kim, Yeong Hee Eun, In Young Kim, Hyungjin Kim, Jaejoon Lee, Chan Hong Jeon, Eun-Mi Koh, Hoon-Suk Cha
Abstract
Background
Ankylosing spondylitis (AS) is a male-predominant disease, and radiographic evidence of damage is also more severe in males. Estrogen modulates immune-related processes such as T cell differentiation and cytokine production. This study aimed to evaluate the effect of estrogen on the disease activity of spondyloarthritis (SpA).
Methods
The effects of estrogen on the development of arthritis were evaluated by performing ovariectomy and 17β-estradiol (E2) pellet implantation in zymosan-treated SKG mice. Clinical arthritis scores were measured, and 18F-fluorodeoxyglucose (18F-FDG) small-animal positron emission tomography/computed tomography performed to quantify joint inflammation. The expression of inflammatory cytokines in joint tissue was measured.
Results
E2-treated mice showed remarkable suppression of arthritis clinically and little infiltration of inflammatory cells in the Achilles tendon and intervertebral disc. 18F-FDG uptake was significantly lower in E2-treated mice than in sham-operated (sham) and ovariectomized mice. Expression of TNF, interferon-γ, and IL-17A was significantly reduced in E2-treated mice, whereas expression of sclerostin and Dickkopf-1 was increased in E2-treated mice compared with sham and ovariectomized mice.
Conclusions
Estrogen suppressed arthritis development in SKG mice, a model of SpA. Results of this study suggest that estrogen has an anti-inflammatory effect on the spondyloarthritis manifestations of the SKG arthritis model.