01.12.2018 | Research | Ausgabe 1/2018 Open Access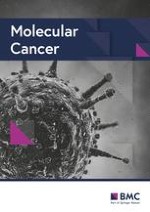 Estrogen-induced miR-196a elevation promotes tumor growth and metastasis via targeting SPRED1 in breast cancer
Zeitschrift:
Autoren:

Cheng-Fei Jiang, Zhu-Mei Shi, Dong-Mei Li, Ying-Chen Qian, Yi Ren, Xiao-Ming Bai, Yun-Xia Xie, Lin Wang, Xin Ge, Wei-Tao Liu, Lin-Lin Zhen, Ling-Zhi Liu, Bing-Hua Jiang
Wichtige Hinweise
Electronic supplementary material
Abstract
Background
Estrogen plays a critical role in breast cancer (BC) progression through estrogen receptor (ER)-mediated gene regulation. Emerging studies suggest that the malignant progress of BC cells is influenced by the cross talk between microRNAs (miRNAs) and ER-α signaling. However, the mechanism and functional linkage between estrogen and miRNAs remain unclear.
Methods
The expression levels of miR-196a and SPRED1 in BC were tested by qRT-PCR in 46 paired BC and adjacent tissues and by the GEO datasets. The role of miR-196a in estrogen-induced BC development was examined by CCK-8 assay, wound healing assay, Matrigel invasion assay and tumorigenicity assay in nude mice. The binding site of ER-α in miR-196a promoter region was analyzed by ChIP-seq, ChIP assay and luciferase reporter assay. The potential targets of miR-196a in BC cells were explored using the luciferase reporter assay and western blot analysis, and the correlation between miR-196a and SPRED1 was analyzed by Spearman's correlation analysis in BC specimens and GEO dataset. TCGA BRCA data was used to characterize the ESR1 signatures according to MSigDB gene set.
Results
The expression levels of miR-196a were higher in ER-positive (ER+) breast tumors compared to ER-negative (ER-) tumor tissue samples. Besides, miR-196a was involved in estrogen-induced BC cell proliferation, migration and invasion. Notably, the up-regulation of miR-196a was mediated by a direct interaction with estrogen receptor α (ER-α) but not estrogen receptor β (ER-β) in its promoter region, and miR-196a expression levels were positively correlated to ER-α signature scores. Furthermore, SPRED1 was a new direct target of miR-196a which participated in miR-196a-promoted BC development and was suppressed by ligand-activated ER-α signal pathway. Finally, forced expression of miR-196a induced tumor growth of MCF7 cells, while inhibition of miR-196a significantly suppressed the tumor progress in vivo.
Conclusions
Overall, the identification of estrogen/miR-196a/SPRED1 cascade will shed light on new molecular mechanism of estrogen signaling in BC development and therapy.