01.12.2019 | Primary research | Ausgabe 1/2019 Open Access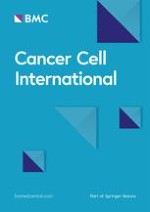 Ethanol extract of
Ligustrum lucidum Ait.

leaves suppressed hepatocellular carcinoma in vitro and in vivo
Zeitschrift:
Autoren:

Guoyan Tian, Jin Chen, Yan Luo, Jin Yang, Tao Gao, Junping Shi
Wichtige Hinweise
Yan Luo and Jin Yang contributed equally to this work
Supplementary information
Publisher's Note
Springer Nature remains neutral with regard to jurisdictional claims in published maps and institutional affiliations.
Abstract
Background
The present study investigated the pharmacological activity and mechanism of ethanol extract of
Ligustrum lucidum Ait.
leaves (EEL) on HCC.
Methods
Cell viability was determined using cell counting kit-8 (CCK-8) assay. The effects of EEL on cellular biological activities were analyzed by flow cytometry (FCM), cell wound scratch assay and transwell assay. The expression levels of related mRNA and protein were determined by performing quantitative real-time PCR (qRT-PCR), Western blotting assay and immunocytochemistry. Methylation-specific PCR (MSP) was carried out to investigate the possible mechanism underlying the DNA methylation of PTEN.
Results
EEL showed cytotoxicity to both Bel-7402 and Huh-7 cell lines. We also found that EEL enhanced the apoptosis of Bel-7402 and Huh-7 cells by regulating the expressions of Bcl-2 associated X (Bax), B cell lymphoma 2 (Bcl-2) and Cytochrome-C and the activity of caspase-3 and therefore promoted cell cycle arrest. Moreover, EEL also suppressed cell migration and invasion. EEL increased the expression of tissue inhibitor of metalloproteinases 2 (TIMP2) but decreased the expressions of matrix metalloproteinase2 (MMP2) and MMP9. Furthermore, EEL inhibited the phosphorylation of PI3K/Akt pathway. MSP results showed that EEL promoted the demethylation of PTEN, suggesting that the inactivation of PI3K/Akt may be related to DNA de-methylation of PTEN. In addition, EEL inhibited the tumor growth of HCC in vivo.
Conclusions
EEL exerted anti-tumor effect on HCC in vitro and in vivo. EEL mediated by the inhibition of PI3K/Akt may be closely related to DNA de-methylation of PTEN. Thus, EEL could be used as a potential anti-cancer therapeutic agent of HCC.