01.12.2017 | Research article | Ausgabe 1/2017 Open Access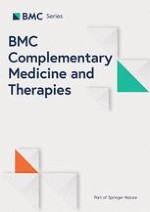 Ethanolic extract of
Streblus asper

leaves protects against glutamate-induced toxicity in HT22 hippocampal neuronal cells and extends lifespan of

Caenorhabditis elegans
Zeitschrift:
Autoren:

Anchalee Prasansuklab, Krai Meemon, Prasert Sobhon, Tewin Tencomnao
Abstract
Background
Although such local herb as
Streblus asper
(family Moraceae) has long been recognized for traditional folk medicines and important ingredient of traditional longevity formula, its anti-neurodegeneration or anti-aging activity is little known. This study aimed to investigate the neuroprotective effect of
S. asper
leaf extracts (SA-EE) against toxicity of glutamate-mediated oxidative stress, a crucial factor contributing to the neuronal loss in age-associated neurodegenerative diseases and the underlying mechanism as well as to evaluate its longevity effect.
Methods
Using mouse hippocampal HT22 as a model for glutamate oxidative toxicity, we carried out MTT and LDH assays including Annexin V-FITC/propidium iodide staining to determine the SA-EE effect against glutamate-induced cell death. Antioxidant activities of SA-EE were evaluated using the radical scavenging and DCFH-DA assays. To elucidate the underlying mechanisms, SA-EE treated cells were analyzed for the expressions of mRNA and proteins interested by immunofluorescent staining, western blot analysis and quantitative real-time reverse transcription polymerase chain reaction (qRT-PCR) techniques. The longevity effect of SA-EE was examined on
C. elegans
by lifespan assay.
Results
We demonstrate that a concentration-dependent reduction of glutamate-induced cytotoxicity was significant after SA-EE treatment as measured by MTT and LDH assays. Annexin V-FITC/propidium iodide and immunofluorescent staining showed that co-treatment of glutamate with SA-EE significantly reduced apoptotic-inducing factor (AIF)-dependent apoptotic cell death. DCFH-DA assay revealed that this extract was capable of dose dependently attenuating the ROS caused by glutamate. Western blot analysis and qRT-PCR showed that nuclear factor erythroid 2-related factor 2 (Nrf2) protein levels in the nucleus, as well as mRNA levels of antioxidant-related genes under Nrf2 regulation were significantly increased by SA-EE. Furthermore, this extract was capable of extending the lifespan of
C. elegans
.
Conclusions
SA-EE possesses both longevity effects and neuroprotective activity against glutamate-induced cell death, supporting its therapeutic potential for the treatment of age-associated neurodegenerative diseases.