01.12.2015 | Research article | Ausgabe 1/2015 Open Access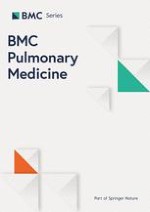 Ethnic sensitivity assessment of fluticasone furoate/vilanterol in East Asian asthma patients from randomized double-blind multicentre Phase IIb/III trials
Zeitschrift:
Autoren:

Annette S. Gross, Caroline Goldfrad, Soichiro Hozawa, Mark H. James, Christine S. Clifton, Yutaro Sugiyama, Loretta Jacques
Wichtige Hinweise
Electronic supplementary material
The online version of this article (doi:
10.​1186/​s12890-015-0159-z
) contains supplementary material, which is available to authorized users.
Competing interests
This analysis was funded by GSK, and the studies included in the analysis were sponsored by GSK (GSK study numbers HZA106827 [Clinicaltrials.gov registration number: NCT01165138, registered on July 15 2010]; HZA106829 [NCT01134042, May 27, 2010]; HZA106837 [NCT01086384, March 11, 2010]; FFA109685 [NCT00603278, December 27, 2007]; and FFA109687 [NCT00603382, December 27, 2007]).
ASG, CG, MHJ, CSC and LJ are employed by and are shareholders in GSK. YS is employed by GSK. SH has, within the previous 3 years, received honoraria for lectures from Abbott Japan, Astellas Pharma, AstraZeneca, Boehringer Ingelheim, Eisai, GSK, Kyorin Pharmaceutical, Merck, Sharp & Dohme, Novartis Pharma, and Teijin Pharma.
Authors' contributions
ASG, CG, MHJ, CSC and LJ contributed to the conception and design of this study; CG, SH and YS contributed to the data analysis; and ASG, CG, SH, MHJ, CSC, YS and LJ contributed to the interpretation of the results. All authors were involved in drafting the manuscript, or revising it critically, and have given approval for publication of the final version.
Abstract
Background
Fluticasone furoate (FF)/vilanterol (VI) is a once daily (OD) inhaled corticosteroid/long-acting β2-agonist combination asthma therapy approved in Japan and the EU. FF/VI efficacy and safety data from asthma studies including patients in East Asia were evaluated to assess ethnic sensitivity.
Methods
Randomized, double-blind, multicenter Phase IIb/III trials were assessed. Change from baseline relative to placebo or twice-daily fluticasone propionate 500 μg in trough FEV
1
was compared between patients from Japan (
N
 = 148) and Not-Japan (
N
 = 3,066; three studies). Adverse events (AEs), laboratory results, and electrocardiograms were compared between patients from Japan + Korea (
N
 = 188) and Not-Japan + Korea (
N
 = 3,840; five studies).
Results
For trough FEV1, improvements from baseline (least-squares mean difference [95 % confidence interval]) were reported for FF/VI 100/25 μg OD versus placebo at Week 12 (Japan: 0.323 L [0.104–0.542]; Not-Japan: 0.168 L [0.095–0.241]). Improvements from baseline (least-squares mean change [standard error]) were reported with FF/VI 200/25 μg OD at Week 24 (Japan: 0.355 L [0.1152]; Not-Japan: 0.396 L [0.0313]). A greater proportion of patients from Japan + Korea versus Not-Japan + Korea reported AEs in all treatment arms including placebo (FF/VI 100/25 μg: 79 % versus 57 %; FF/VI 200/25 μg: 64 % versus 45 %; placebo: 41 % versus 23 %). There were no notable differences in treatment-related or class-related AEs. No clinically significant changes in electrocardiogram assessments or statistically significant differences in 24 h urinary cortisol excretion were observed between the Japan + Korea and Not-Japan + Korea cohorts.
Conclusions
Good efficacy and an acceptable safety profile were observed for FF/VI 100/25 μg and 200/25 μg OD in East Asian asthma patients; these globally recommended doses are appropriate for asthma patients in Japan.