01.12.2018 | Research | Ausgabe 1/2018 Open Access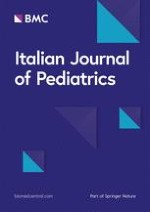 Etiological heterogeneity and clinical variability in newborns with esophageal atresia
Zeitschrift:
Autoren:

Ettore Piro, Ingrid Anne Mandy Schierz, Mario Giuffrè, Giovanni Cuffaro, Simona La Placa, Vincenzo Antona, Federico Matina, Giuseppe Puccio, Marcello Cimador, Giovanni Corsello
Abstract
Background
The aim of this study was to define different characteristics of infants with esophageal atresia and correlations with neonatal level of care, morbidity and mortality occurring during hospital stay.
Methods
Charts of all newborns with esophageal atresia (EA) admitted to our University NICU between January 2003 and November 2016 were reviewed and subdivided in four groups related to different clinical presentations; EA as an isolated form (A), with a concomitant single malformation (B), as VACTERL association (C), and in the context of a syndrome or an entity of multiple congenital anomalies (D).
Results
We recruited 67 infants with EA (with or without tracheoesophageal fistula), distributed in groups as follows: A 31.3%, B 16.4%, C 26.8% and D 25.3%. Type of atresia was not statistically different among different groups. Mortality was higher in groups C and D, especially if associated with congenital heart defects.
In survivors, we found different auxological evolution and prognostic profiles considering duration in days of invasive mechanical ventilation and total parenteral nutrition, as well as length of stay and corrected gestational age at discharge.
Conclusions
In the context of genetic and syndromic entities, subjects with VACTERL association showed a lower mortality rate although a higher and more complex level of intensive care was noted in comparison to infants without VACTERL genetic and syndromic entities.