01.12.2017 | Study protocol | Ausgabe 1/2017 Open Access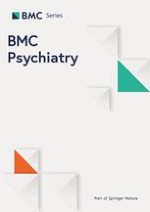 EUDOR-A multi-centre research program: A naturalistic, European Multi-centre Clinical study of EDOR Test in adult patients with primary depression
Zeitschrift:
Autoren:

Marco Sarchiapone, Miriam Iosue, Vladimir Carli, Mario Amore, Enrique Baca-Garcia, Anil Batra, Doina Cosman, Philippe Courtet, Guido Di Sciascio, Ricardo Gusmao, Tadeusz Parnowski, Peter Pestality, Pilar Saiz, Johannes Thome, Anders Tingström, Marcin Wojnar, Patrizia Zeppegno, Lars-Håkan Thorell
Abstract
Background
Electrodermal reactivity has been successfully used as indicator of interest, curiosity as well as depressive states. The measured reactivity depends on the quantity of sweat secreted by those eccrine sweat glands that are located in the hypodermis of palmar and plantar regions. Electrodermal hyporeactive individuals are those who show an unusual rapid habituation to identical non-significant stimuli. Previous findings suggested that electrodermal hyporeactivity has a high sensitivity and a high specificity for suicide. The aims of the present study are to test the effectiveness and the usefulness of the EDOR (ElectroDermal Orienting Reactivity) Test as a support in the suicide risk assessment of depressed patients and to assess the predictive value of electrodermal hyporeactivity, measured through the EDOR Test, for suicide and suicide attempt in adult patients with a primary diagnosis of depression.
Methods and design
1573 patients with a primary diagnosis of depression, whether currently depressed or in remission, have been recruited at 15 centres in 9 different European countries. Depressive symptomatology was evaluated through the Montgomery-Asberg Depression Scale. Previous suicide attempts were registered and the suicide intent of the worst attempt was rated according to the first eight items of the Beck Suicide Intent Scale. The suicide risk was also assessed according to rules and traditions at the centre. The EDOR Test was finally performed. During the EDOR Test, two fingers are put on gold electrodes and direct current of 0.5 V is passed through the epidermis of the fingers according to standards. A moderately strong tone is presented through headphones now and then during the test. The electrodermal responses to the stimuli represent an increase in the conductance due to the increased number of filled sweat ducts that act as conductors through the electrically highly resistant epidermis. Each patient is followed up for one year in order to assess the occurrence of intentional self-harm.
Discussion
Based on previous studies, expected results would be that patients realizing a suicide attempt with a strong intent or committing suicide should be electrodermally hyporeactive in most cases and non-hyporeactive patients should show only few indications of death intent or suicides.
Trial registration
The German Clinical Trials Register,
DRKS00010082
. Registered May 31
st
, 2016. Retrospectively registered.