01.03.2012 | Original Paper | Ausgabe 3/2012 Open Access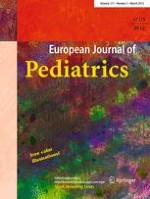 European survey on the use of prophylactic fluconazole in neonatal intensive care units
Zeitschrift:
Autoren:

Florentia Kaguelidou, Chiara Pandolfini, Paolo Manzoni, Imti Choonara, Maurizio Bonati, Evelyne Jacqz-Aigrain
Abstract
Neonatal fungal infections are associated with substantial mortality and morbidity. Although prophylactic use of several antifungals has been proposed, this practice remains controversial. In order to evaluate the use of fluconazole prophylaxis in European NICUs, we conducted a cross-sectional survey by means of a structured questionnaire that was sent to European level II and III neonatal intensive care units, over a 9-month period, as part of a neonatal research FP7 European project. A total of 193 questionnaires from 28 countries were analysed. Use of antifungal prophylaxis was reported by 55% of the responders, and the most frequently used antifungal agent was fluconazole (92%). Main indications for prophylaxis were low gestational age (<28 weeks) and birth weight (<1,000 g). A dose of 3 mg/kg was used in 66% of NICUs using fluconazole, with an administration interval of 72 h in 52% of them. All responders acknowledged the need for additional trials on the efficacy of prophylactic fluconazole. Non-users of fluconazole prophylaxis were more likely to be influenced by the local incidence of candidiasis, the risk of increasing antifungal resistance and the absence of specific recommendations by paediatric societies.
Conclusions
: Major concerns about the use of fluconazole prophylaxis include its efficacy, the risk of emergence of resistant species and the absence of clear consensus to support routine use. Future studies that address these issues will contribute to a more rational use of fluconazole prophylaxis.