12.02.2019 | Ausgabe 4/2019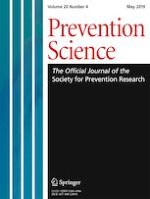 Evaluating Community-Based Translational Interventions Using Historical Controls: Propensity Score vs. Disease Risk Score Approach
Zeitschrift:
Autoren:

Luohua Jiang, Shuai Chen, Janette Beals, Juned Siddique, Richard F. Hamman, Ann Bullock, Spero M. Manson, the Special Diabetes Program for Indians Diabetes Prevention Demonstration Project, Grant programs participating in the Special Diabetes Program for Indians Diabetes Prevention Program are as follows: Confederated Tribes of the Chehalis Reservation, Cherokee Nation, Cheyenne River Sioux Tribe, the Chickasaw Nation, Coeur d'Alene Tribe, Colorado River Indian Tribes, Colville Confederated Tribes, Cow Creek Band of Umpqua Tribe, Klamath Tribes, and Coquille Tribe, Fond du Lac Reservation, Gila River Health Care, Haskell Health Center, Ho-Chunk Nation, Indian Health Board of Minneapolis, Indian Health Center of Santa Clara Valley, Native American Rehabilitation Association of the NW, Hunter Health, Kenaitze Indian Tribe IRA, Lawton IHS Service Unit, Menominee Indian Tribe of Wisconsin, Mississippi Band of Choctaw Indians, Norton Sound Health Corporation, Pine Ridge IHS Service Unit, Pueblo of San Felipe, Quinault Indian Nation, Rapid City IHS Diabetes Program, Red Lake Comprehensive Health Services, Rocky Boy Health Board, Seneca Nation of Indians, Sonoma County Indian Health Project, South East Alaska Regional Health Consortium, Southcentral Foundation, Trenton Indian Service Area, Tuba City Regional Health Care Corporation, United American Indian Involvement, Inc., United Indian Health Services, Inc., Warm Springs Health & Wellness Center, Winnebago Tribe of Nebraska, Zuni Pueblo.
Wichtige Hinweise
Electronic supplementary material
Transparency and Openness Promotion Guidelines
Availability of Data
De-identified DPP data can be obtained from the NIDDK Data Repository following the data request instructions posted on the Repository's website:
https://​repository.​niddk.​nih.​gov/​pages/​overall_​instructions/​
. Due to confidentiality concerns and previous tribal agreements, the SDPI-DP data cannot be made publicly available. Access to the SDPI-DP data can only be requested by contacting the Division of Diabetes Treatment and Prevention of the Indian Health Service.
Availability of SAS Code
The SAS code for DRS matching and dry-run analysis used in the statistical analysis section of this study is included in Appendix
1
of the supplementary materials
Publisher's Note
Springer Nature remains neutral with regard to jurisdictional claims in published maps and institutional affiliations.
Abstract
Many community-based translations of evidence-based interventions are designed as one-arm studies due to ethical and other considerations. Evaluating the impacts of such programs is challenging. Here, we examine the effectiveness of the lifestyle intervention implemented by the Special Diabetes Program for Indians Diabetes Prevention (SDPI-DP) demonstration project, a translational lifestyle intervention among American Indian and Alaska Native communities. Data from the landmark Diabetes Prevention Program placebo group was used as a historical control. We compared the use of propensity score (PS) and disease risk score (DRS) matching to adjust for potential confounder imbalance between groups. The unadjusted hazard ratio (HR) for diabetes risk was 0.35 for SDPI-DP lifestyle intervention vs. control. However, when relevant diabetes risk factors were considered, the adjusted HR estimates were attenuated toward 1, ranging from 0.56 (95% CI 0.44–0.71) to 0.69 (95% CI 0.56–0.96). The differences in estimated HRs using the PS and DRS approaches were relatively small but DRS matching resulted in more participants being matched and smaller standard errors of effect estimates. Carefully employed, publicly available randomized clinical trial data can be used as a historical control to evaluate the intervention effectiveness of one-arm community translational initiatives. It is critical to use a proper statistical method to balance the distributions of potential confounders between comparison groups in this kind of evaluations.