01.12.2017 | Research article | Ausgabe 1/2017 Open Access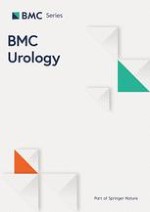 Evaluation and treatment for ovotesticular disorder of sex development (OT-DSD) - experience based on a Chinese series
Zeitschrift:
Autoren:

Yu Mao, Shaoji Chen, Ru Wang, Xuejun Wang, Daorui Qin, Yunman Tang
Abstract
Background
The aim of this study is to review and present the clinical features and process of evaluation and treatment for OT-DSD in a single center in recent years in China.
Methods
Sixteen patients with OT-DSD during the past 4 years underwent the evaluation and treatment in a single center. The clinical characteristics and outcomes of surgery were analyzed.
Results
The surgical age ranged from 17 months to 66 months with a mean age of 20 months, and the mean follow-up was 30 months (4 months to 56 months). The presentation in 11 patients was ambiguous genitalia, and the rest 5 patients were suspected to have DSD in preoperative examination before hypospadias repair. The karyotypes were 46, XX in 11 patients, 46, XX/46, XY in 3, 46, XX/47, XXY in 1, and 46, XY in 1. Initial reared sex was male in 14 patients, female in 1, and undetermined in 1. After surgery, genders were reassigned in 3 patients, while 15 patients were raised as male with testicular tissue left. Only 1 patient with ovarian tissue left was raised as female. Repair was completed in 11 males and 1 female, and stage I urethroplasty was done in 4 males. No further surgery to remove the gonads was needed for inconsonance of gender assignment. No gonadal tumors were detected.
Conclusions
OT-DSD is a rare and complex deformity with few systematic reports in China. It's important to establish a regular algorithm for evaluation and treatment of OT-DSD.