05.02.2018 | Ausgabe 8/2018 Open Access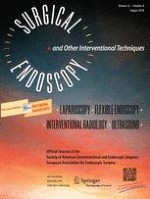 Evaluation of 22G fine-needle aspiration (FNA) versus fine-needle biopsy (FNB) for endoscopic ultrasound-guided sampling of pancreatic lesions: a prospective comparison study
Zeitschrift:
Autoren:

Li Tian, An-Liu Tang, Lei Zhang, Xiao-Wen Liu, Jing-Bo Li, Fen Wang, Shou-Rong Shen, Xiao-Yan Wang
Wichtige Hinweise
Li Tian and An-Liu Tang contributed equally to this manuscript.
Abstract
Background
To compare the diagnostic yield and safety of 22G endoscopic ultrasound-guided fine-needle aspiration (EUS-FNA) and endoscopic ultrasound-guided fine-needle biopsy (EUS-FNB) in the diagnosis of pancreatic solid lesions.
Methods
Between April 2014 and September 2015, 36 patients with pancreatic solid lesions were included for endoscopic ultrasound test. Patients were randomly divided into two groups: EUS-FNA (
n
 = 18) and EUS-FNB (
n
 = 18). Each nidus was punctured three times (15 ~ 20 insertions for each puncture) with a 22G needle. The core specimens were analyzed, and the diagnostic yields of FNA and FNB were evaluated.
Results
The procedure success rate was 100% with no complications. Cytological and histological examinations found that the diagnostic yield of FNB and FNA were both 83.3%. To get a definitive diagnosis, FNB needed fewer punctures than FNA (1.11 vs. 1.83;
P
  <  0.05).
Conclusions
22G EUS-FNB is a safe and effective way to diagnose pancreatic solid lesions. FNB required a lower number of needle passes to achieve a diagnosis compared with FNA.