23.11.2016 | Original Article | Ausgabe 3/2017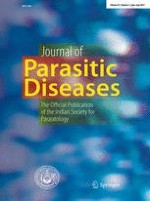 Evaluation of different
Haemonchus contortus

antigens for diagnosis of sheep haemonchosis by ELISA and their cross reactivity with other helminthes
Zeitschrift:
Autoren:

Omnia M. Kandil, Seham H. M. Hendawy, Amira H. El Namaky, Margarita P. Gabrashanska, Veselin N. Nanev
Abstract
Haemonchus contortus
(
H. contortus
) remains important nematode that infecting sheep all over the world. Truthful diagnosis of haemonchosis needs reliable Enzyme linked immune sorbent assay test as well as the immuno-reactive protein profile of different prepared
H. contortus
antigens; larval (L), excretory secretory product (ESP) and adult somatic
H. contortus
(AS). The current study fulfilled that L antigen is the talented antigen for such serological diagnosis. Immunodominant band at molecular weight 57 kDa were answerable for highest specificity and accuracy of positive predictive value of this antigen. Moreover, the highest apparent prevalence value was 92 and 75% obtained by L and ESP antigens, respectively. The results of cross reactivity among AS
, Monezia expansa
(
M. expansa
) and
Fasciola
spp. revealed that AS antigen appeared major cross reactivity with other cestode and trematode. Best dilution of serum was (1:800) to rise above this phenomenon.