01.12.2014 | Original Article | Ausgabe 6/2014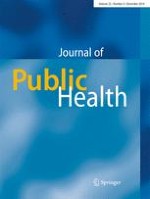 Evaluation of different periodontal treatments modes for patients with type 2 diabetes mellitus
Zeitschrift:
Autoren:

Gisele Toyama, Francielly Andressa Felipetti, Kawana Priscila Bertoldo, Claudia Silveira Viera, Luciana Bill Mikito Kottwitz, Carlos Augusto Nassar, Patricia Oehlmeyer Nassar
Abstract
Aim
The type 2 diabetes (DM2) is a risk factor for periodontal disease, while, on the other hand, periodontitis worsens glycemic control. The treatment of periodontal disease reduces glycemia; however, there is no consensus on which is the best periodontal treatment for diabetic patients. This study aims to evaluate different modalities of periodontal therapy in diabetic patients, i.e., conventional periodontal treatment using scaling and root planning (RAR); and the one-stage full-mouth disinfection (FMD).
Subjects and methods
20 patients with DM2 and periodontal disease were selected and divided into two groups: group 1: RAR; group 2: FMD. The analyses were performed at 0, 3 and 6 months, and included clinical periodontal parameters and the quantification of gingival crevicular fluid. Glycated hemoglobin (HbA1c), fasting glucose (FG) and IL1-β expression were measured.
Results
After 6 months, both groups presented improved FG, clinical periodontal parameters and quantification of gingival crevicular fluid; however, no statistically significant difference was found in the IL-1β expression after 180 days.
Conclusion
When the types of periodontal therapy were compared, it was possible to observe that conventional periodontal treatment is more effective than one-stage full-mouth disinfection as regards glycemic control, periodontal parameters of bleeding on probing, the amount of gingival fluid, and variation in IL-1β expression, although no significant difference was found between the initial and final values in each group.