01.08.2011 | Research article | Ausgabe 4/2011 Open Access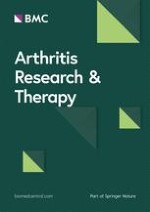 Evaluation of long-term antinociceptive properties of stabilized hyaluronic acid preparation (NASHA) in an animal model of repetitive joint pain
Zeitschrift:
Autoren:

Michael Karl Boettger, Diana Kümmel, Andrew Harrison, Hans-Georg Schaible
Wichtige Hinweise
Electronic supplementary material
The online version of this article (doi:
10.​1186/​ar3394
) contains supplementary material, which is available to authorized users.
Competing interests
AH is employed by Smith & Nephew and holds stocks and shares in Smith & Nephew. The Institute of Physiology, University Hospital Jena, was contracted by Smith & Nephew to conduct this study. Test substances were supplied and the Institute received funding from the company. However, no salary was paid to any of the authors employed by the University Hospital Jena.
Authors' contributions
MKB designed the study, took responsibility for animal healthcare, carried out part of the experiments, took care of the unblinding procedure, performed the statistical analysis, interpreted the data and wrote the manuscript. DK carried out parts of the experiments and statistical analysis. AH initiated the study, provided knowledge on the HA preparations and their clinical use, designed the study, and contributed to the manuscript. HGS designed the study, interpreted the data, and wrote the manuscript. All authors read and approved the final manuscript.
Abstract
Introduction
Clinical trials provided controversial results on whether the injection of hyaluronan preparations into osteoarthritic joints reduces pain. Problems of clinical studies may be the substantial placebo effects of intra-articular injections, different severity and rate of progression of the disease and others. We hypothesize that the use of preclinical pain models may help to clarify whether a certain hyaluronan exerts antinociceptive effects upon intra-articular injection. In the present study we tested in the bradykinin/prostaglandin E2 (PGE2) model primarily the putative antinociceptive effect of stabilized hyaluronic acid from a non animal source (NASHA), a stabilized hyaluronic acid based gel for intra-articular treatment of OA. We established a dose-response relationship for NASHA and we compared NASHA to other hyaluronans with different formulations that are in clinical use.
Methods
To induce transient joint pain episodes bradykinin and PGE2 were repetitively administered intra-articularly and unilaterally into rat knee joints during short anaesthesia. After establishment of the predrug nociceptive responses, a single intra-articular injection of saline or NASHA at different concentrations was administered and pain responses to further bradykinin/PGE2 injections were monitored up to 56 days after NASHA. Furthermore, the obtained effective dose was compared to clinically defined concentrations of Hylan GF20 and sodium hyaluronate. The primary outcome measures were primary mechanical hyperalgesia at the knee joint and pain-induced weight bearing.
Results
On day 1 after injection, all tested hyaluronan preparations showed an antinociceptive effect >50% compared to saline. Single injections of higher doses of NASHA (50, 75 and 100 μl) were antinociceptive up to 56 days. When injection volumes in rat knee joints were adapted to clinical injection volumes in humans, the antinociceptive effects of the cross-linked NASHA and Hylan GF20 had a longer duration than that of the non cross-linked sodium hyaluronate (with a slightly better effect of NASHA than Hylan GF20).
Conclusions
In the bradykinin/PGE2 model of joint pain a single injection of all hyaluronan preparations provided significant antinociceptive effects compared to saline. It appeared that the duration of the antinociceptive effect of the cross-linked hyaluronan preparations NASHA and Hylan GF20 was more prolonged. In addition, the gel beads structure allowing only a slow release of hyaluronic acid (NASHA) may even enhance this prolonged antinociceptive effect.