30.07.2020 | Original Contributions | Ausgabe 1/2021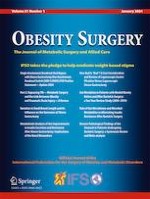 Evaluation of Online Videos of Laparoscopic Sleeve Gastrectomy Using the LAP-VEGaS Guidelines
Zeitschrift:
Autoren:

David Chapman, Abigail Weaver, Laila Sheikh, Andrew D. MacCormick, Garth Poole
Wichtige Hinweise
Study importance questions
What is already known on the subject
• Quality of online surgical educational videos is low.
• There is no established auditing process to assess quality prior to uploading or before publishing online videos.
• LAP-VEGaS is a novel quality assessment tool for online videos.
What are the new findings in your manuscript?
• Online laparoscopic sleeve gastrectomy videos are of poor to average educational quality.
• LAP-VEGaS is a user-friendly tool used to quantify educational quality of uploaded videos and could be adopted across a range of online surgical videos.
How might your results change the direction of research or the focus of clinical practice?
• Uploading clinicians' and video repository's both have a role in auditing quality of uploaded videos.
• LAP-VEGaS could play an important part in raising the standard of educational surgical videos.
Publisher's Note
Springer Nature remains neutral with regard to jurisdictional claims in published maps and institutional affiliations.
Abstract
Background
Laparoscopic sleeve gastrectomy (LSG) is the most common bariatric surgical procedure worldwide. Educational videos of LSGs are available from online sources with YouTube® being the most popular online video repository. However, due to the unrestricted and uncontrolled nature of YouTube®, anyone can upload videos without peer review or standardization. The LAP-VEGaS guidelines were formed to guide the production of high-quality surgical videos. The aim of this study is to use the LAP-VEGaS guidelines to determine if videos of LSGs available on Youtube® are of an acceptable standard for surgical educational purposes.
Methods
A YouTube® search was performed using the term laparoscopic sleeve gastrectomy. Appropriate videos were analysed by two individuals using the sixteen LAP-VEGaS guidelines.
Results
A total of 575 videos were found, of which 202 videos were included and analysed using the LAP-VEGaS guidelines. The median video guideline score was 6/16 with 89% of videos meeting less than half of all guidelines. There was no correlation between the LAP-VEGaS score and view count.
Conclusions
There is an abundance of laparoscopic sleeve gastrectomy educational videos available on YouTube®; however, when analysed using the LAP-VEGaS guidelines, the majority do not meet acceptable educational standards for surgical training purposes.