01.12.2012 | Study protocol | Ausgabe 1/2012 Open Access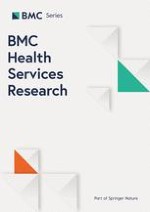 Evaluation of primary care midwifery in the Netherlands: design and rationale of a dynamic cohort study (DELIVER)
Zeitschrift:
Autoren:

Judith Manniën, Trudy Klomp, Therese Wiegers, Monique Pereboom, Johannes Brug, Ank de Jonge, Margreeth van der Meijde, Eileen Hutton, Francois Schellevis, Evelien Spelten
Wichtige Hinweise
Electronic supplementary material
The online version of this article (doi:
10.​1186/​1472-6963-12-69
) contains supplementary material, which is available to authorized users.
Competing interests
The authors declare that they have no competing interests.
Authors' contributions
ES, FS, and MM originated the idea for the study. ES and TK supervised the study. TK and MP recruited the midwifery practices. TW was responsible for many measurement instruments (including diaries with midwives' work-related activities) and data linkage. JM monitored the data collection. All authors participated in discussing the design of the study and developing the research protocols and questionnaires. The core research team consisted of ES, TK, FS, TW, MP, and JM. JM drafted the manuscript, and all authors read and corrected draft versions of the manuscript and approved the final manuscript.
Abstract
Background
In the Netherlands, midwives are autonomous medical practitioners and 78% of pregnant women start their maternity care with a primary care midwife. Scientific research to support evidence-based practice in primary care midwifery in the Netherlands has been sparse. This paper describes the research design and methodology of the multicenter multidisciplinary prospective DELIVER study which is the first large-scale study evaluating the quality and provision of primary midwifery care.
Methods/Design
Between September 2009 and April 2011, data were collected from clients and their partners, midwives and other healthcare professionals across the Netherlands. Clients from twenty midwifery practices received up to three questionnaires to assess the expectations and experiences of clients (e.g. quality of care, prenatal screening, emotions, health, and lifestyle). These client data were linked to data from the Netherlands Perinatal Register and electronic client records kept by midwives. Midwives and practice assistants from the twenty participating practices recorded work-related activities in a diary for one week, to assess workload. Besides, the midwives were asked to complete a questionnaire, to gain insight into collaboration of midwives with other care providers, their tasks and attitude towards their job, and the quality of the care they provide. Another questionnaire was sent to all Dutch midwifery practices which reveals information regarding the organisation of midwifery practices, provision of preconception care, collaboration with other care providers, and provision of care to ethnic minorities. Data at client, midwife and practice level can be linked. Additionally, partners of pregnant women and other care providers were asked about their expectations and experiences regarding the care delivered by midwives and in six practices client consults were videotaped to objectively assess daily practice.
Discussion
In total, 7685 clients completed at least one questionnaire, 136 midwives and assistants completed a diary with work-related activities (response 100%), 99 midwives completed a questionnaire (92%), and 319 practices across the country completed a questionnaire (61%), 30 partners of clients participated in focus groups, 21 other care providers were interviewed and 305 consults at six midwifery practices were videotaped.
The multicenter DELIVER study provides an extensive database with national representative data on the quality of primary care midwifery in the Netherlands. This study will support evidence-based practice in primary care midwifery in the Netherlands and contribute to a better understanding of the maternity care system.