27.04.2019 | Original Article | Ausgabe 2/2019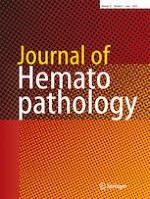 Evaluation of S1PR1, pSTAT3, S1PR2, and FOXP1 expression in aggressive, mature B cell lymphomas
Zeitschrift:
Autoren:

Mustafa Al-Kawaaz, Teresa Sanchez, Michael J. Kluk
Wichtige Hinweise
Publisher's note
Springer Nature remains neutral with regard to jurisdictional claims in published maps and institutional affiliations.
Abstract
Aggressive, mature B cell lymphomas include Burkitt lymphoma (BL); high-grade B cell lymphomas (HGBL) (e.g., double-hit B cell lymphomas (HGBL-DH: HGBL with MYC and BCL2 and/or BCL6 translocations)); HGBL, not otherwise specified (HGBL, NOS); and diffuse large B cell lymphoma (DLBCL). Overlapping morphologic and immunohistochemical features of these lymphomas pose diagnostic challenges in some cases, and better understanding of potential diagnostic biomarkers and possible therapeutic targets is needed. Sphingosine 1 phosphate receptors (S1PR1-5) are G protein-coupled receptors that bind S1P and influence migration and survival in multiple cell types, including lymphocytes. S1PRs are emerging as biomarkers in B cell biology and interaction between S1PR pathways and STAT3 or FOXP1 has been reported in DLBCL. Our aim was to extend the understanding of S1PR1, STAT3, and S1PR2, FOXP1 expression beyond DLBCL, into additional aggressive, mature B cell lymphomas using immunohistochemical expression analysis of human tissue samples. S1PR1 and S1PR2 showed different expression patterns in mantle zones and follicle centers in reactive lymphoid tissue. BL showed a unique expression pattern compared to HGBL and DLBCL. Additionally, S1PR1 and S1PR2 expression were typically mutually exclusive and were expressed in a low proportion of cases (frequently HGBL involving extranodal sites). FOXP1 was expressed in a high proportion of various case types and pSTAT3 was detected in a significant proportion of HGBL and DLBCL. These findings provide further evidence that S1PR1, pSTAT3, S1PR2, and FOXP1 play a role in a subset of aggressive, mature B cell lymphomas.