01.12.2017 | Research article | Ausgabe 1/2017 Open Access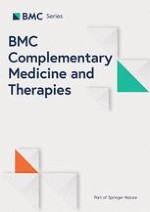 Evaluation of the anti-diarrheal activity of the aqueous stem extract of
Lantana camara

Linn (Verbenaceae) in mice
Zeitschrift:
Autoren:

Edlam Tadesse, Ephrem Engidawork, Teshome Nedi, Getnet Mengistu
Abstract
Background
Diarrheal disease remains a public health problem in developing countries, including Ethiopia. In order to alleviate this disease, Ethiopian traditional healers use a wide range of medicinal plants from which
Lantana camara
is one of them. The stem of this plant is traditionally used for the treatment of diarrhoea. In addition, this plant is scientifically evaluated to have an antispasmodic effect on in vitro study. The aim of this study was to evaluate the antidiarrheal activity of the aqueous stem extract of
L. camara
Linn in mice.
Methods
The antidiarrheal activity of the extract was investigated using castor oil induced diarrhoea, enteropooling and small intestine transit models. The test groups received various doses (100, 200, and 400 mg/kg) of the extract, whereas positive controls received Loperamide (3 mg/kg) and negative controls received distilled water (10 ml/kg).
Results
In castor oil induced diarrhoea model, the extract, at all test doses, significantly (
p
< 0.001) prolonged diarrhoea onset, decreased the frequency of defecation, and weight of faeces. Similarly, the extract produced a significant (
p
< 0.001) decline in the weight and volume of intestinal contents at all tested doses. In addition, a significant (
P
< 0.001) reduction in the gastrointestinal motility in charcoal meal test was also observed in all doses of the extract. Phytochemical screening of the extract revealed the presence of flavonoids, alkaloids, tannins, and phytosterols that may play a key role in its antidiarrheal activity.
Conclusion
The obtained results of the present study confirm antidiarrheal activity of the stem of
L. camara
, thus provide the scientific basis for the traditional uses of this plant as a treatment for diarrhoea.