25.03.2020 | Original Article | Ausgabe 7/2020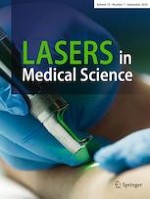 Evaluation of the clinical and biochemical efficacy of erbium, chromium:ytrium-scandium-gallium-garnet (ER,CR:YSGG) laser treatment in periodontitis
Zeitschrift:
Autoren:

Dilara Sezen, Mükerrem Hatipoğlu, Kemal Üstün
Wichtige Hinweise
Publisher's note
Springer Nature remains neutral with regard to jurisdictional claims in published maps and institutional affiliations.
Abstract
The objective of this study was to evaluate the clinical and biochemical efficacy of erbium, chromium:ytrium-scandium-gallium-garnet (Er,Cr:YSGG) laser treatment, in addition to non-surgical periodontal treatment (NSPT), in periodontitis patients. This was a single-centre, split-mouth, randomized, controlled 6-month clinical trial. Twenty-seven patients with moderate to advanced periodontitis were included in the study. The patients were randomly assigned to a debridement and laser treatment group or control group (debridement alone). Clinical measurements were performed at baseline and 1, 3 and 6 months post-treatment. The following parameters were measured: plaque index (PI), gingival index (GI), probing depth (PD), clinical attachment level (CAL), bleeding on probing (BoP), gingival crevicular fluid (GCF) volume and IL-1β and MMP-8 levels in GCF. There were statistically significant clinical improvements in both groups, with no significant between-group differences in PD, CAL, PI and BoP clinical measurements (
p
 < 0.05). As compared with the control group, the GI 1 and 3 months post-treatment and BoP 1 month post-treatment were significantly improved in the laser group (
p
 < 0.05). There was also a significant reduction in IL-1 β levels in both groups at baseline versus those 1, 3 and 6 months later (
p
 < 0.05) There was no statistically significant difference in IL-1β and MMP-8 levels between groups (
p
 < 0.05). Both the treatment modalities resulted in significant improvements in clinical parameters. Within the limitations of this study, Er,Cr:YSGG laser treatment applied in addition to NSPT is indicated to reduce clinical inflammation.