28.01.2020 | Assisted Reproduction Technologies | Ausgabe 4/2020 Open Access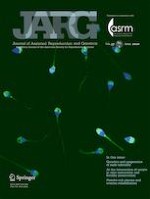 Evaluation of the effect of the elective blastocyst-stage embryo transfer and freezing strategy on the abandonment of frozen embryos under the Taiwan National Assisted Reproduction Act
Zeitschrift:
Autoren:

Kuo-Chung Lan, Ya-Jung Tseng, Yi-Ru Su, Tzu-Yu Lin, Yi-Chi Lin
Wichtige Hinweise
Publisher's note
Springer Nature remains neutral with regard to jurisdictional claims in published maps and institutional affiliations.
Abstract
Purpose
To evaluate the relationship between elective blastocyst transfer, freezing strategy, and the abandonment of frozen embryos with a storage time limit of 10 years as specified in the National Assisted Reproduction Act of Taiwan.
Methods
This two-phase retrospective cohort study was conducted at a single tertiary center, Kaohsiung Chang Gung Memorial Hospital (KCGMH), in 2019. Participants were selected from a data registry containing 4167 fresh IVF cycles, including phase 1 cycles from 1999 to 2009 and phase 2 cycles from 2010 to 2014, at KCGMH.
Results
In phase 1, embryo abandonment was associated with the production of more mature oocytes and embryos, the freezing of more embryos, young female age, blastocyst transfer, and positive pregnancy results. After adjustment for confounding factors, only positive pregnancy results (adjusted odds ratio [aOR] 4.38, 95% confidence interval [CI] 3.17, 6.04), the freezing of ≥ 2 embryos (aOR 3.68, 95% CI 3.10, 4.38), the production of ≥ 6 embryos (aOR 1.68, 95% CI 1.03, 2.73), and the use blastocyst transfer (aOR 2.46, 95% CI 1.64, 3.69) remained significantly associated with embryo abandonment. The factors associated with embryo abandonment or possible abandonment were similar in phase 2.
Conclusion
For elective blastocyst stage transfer and a freezing strategy performed according to the Taiwan National Assisted Reproduction Act, a young female age ≤ 35 with positive pregnancy status due to the original IVF treatment, the production of ≥ 6 embryos, and the cryopreservation of ≥ 2 blastocysts may increase the likelihood of abandoning embryos in the future.