01.03.2016 | Original Article | Ausgabe 2/2016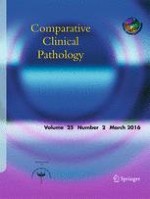 Evaluation of the effects of methanol leaf extract of
Palisota hirsuta

on the biochemical and hematological parameters of rats
Zeitschrift:
Autoren:

Ihemdirim Chukwuma Unamba-Oparah, C. Unamba-Oparah, A. O. Anaga
Abstract
The effects of 28-day oral administration of the methanol leaf extract of
Palisota hirsuta
(MLEPH) on biochemical, hematological parameters, and relative organ weights (ROWs) in albino rats were investigated. There were no significant (
p
 > 0.05) variations in the ROW of the heart, kidney, spleen, and liver on days 14 and 28 in all the rats given the different doses of MLEPH. The hematology showed that there were no significant (
p
 > 0.05) alterations of the packed cell volume (PCV), hemoglobin concentration, RBC count, total white blood cell (tWBC), and differential WBC counts by MLEPH at 20, 40, 80, and 160 mg/kg when compared with control. The serum biochemistry also revealed no significant (
p
 > 0.05) variations in the serum activities of aspartate aminotransferase (AST), alanine aminotransaminase (ALT), alkaline phosphatase (ALP), total protein, total bilirubin, and creatinine when the groups that received the extract at the different doses were compared with the control. Therefore, MLEPH did not cause significant toxicity after 28 days of oral administration.