01.12.2018 | Research article | Ausgabe 1/2018 Open Access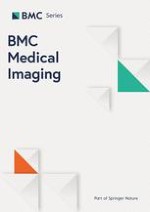 Evaluation of the efficacy of amplitude-integrated electroencephalography in the screening of newborns with metabolic disorder admitted to the NICU
Zeitschrift:
Autoren:

Maliheh Kadivar, Ziba Mosayebi, Reza Shervin Badoo, Raziyeh Sangesari, Saeed Jedari Attari, Maryam Saeedi, Elahe Movahedi Moghadam
Abstract
Background
Neonate patients with metabolic disorder show encephalopathy and seizures that may lead to morbidity and mortality. Thus rapid detection and treatment of these patients is necessary. Although Amplitude-integrated electroencephalography (aEEG) has been used for more than a decade in the evaluation of infants with encephalopathy but has not been used in the assessment of neonates suffering from metabolic disorders. In this study, we tried to determine the efficacy of aEEG as an easily available diagnostic tool in the diagnosis of neonates with metabolic diseases.
Methods
All cases which admitted to the Neonatal Intensive Care Unit (NICU) of the Children's Medical Center during a one-year period were enrolled. aEEG recordings were obtained by installing 4 electrodes on the infant's head by a trained nurse and aEEG was recorded for at least 24 h with a description of the whole tracing. Clinical information, final outcome and questionnaires, including patient information: symptoms of the disease, gender, age, duration of hospitalization and the type of the metabolic disease were recorded in details. The obtained data was analyzed with the Spss24 software.
Results
Only 3 (two girl and one boy) out of 29 aEEGs recordings were abnormal; other patients showed normal aEEGs. The most common clinical and neurological manifestations were seizure (34.5%), hypotonia (31%), and mortality rate was 10.3%. There was no significant correlation between aEEG findings and gender, age, type of disease, laboratory tests findings and positive family history.
Conclusions
Although it has been shown that EEG has a diagnostic value in metabolic diseases, there has been no study on the efficacy of aEEG to evaluate neonates with metabolic diseases. But good accessibility and easy of working with aEEG, promote a tendency to use this procedure as screening tool for metabolic diseases.
The current study about aEEG monitoring in these patients, while limited, can be used as a pilot study for further research on this topic.
Therefore, a correct judgment in this field requires administration of aEEG on a larger population of neonates with metabolic diseases.