11.10.2016 | Original Article | Ausgabe 1/2017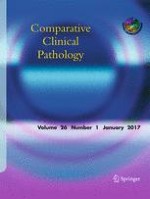 Evaluation of the healing effect of honey and colostrum in treatment of cutaneous wound in rat
Zeitschrift:
Autoren:

Nader Tanideh, Ehsan Abdordideh, Seyedeh Leili Asadi Yousefabad, Sajad Daneshi, Omid Koohi Hosseinabadi, Soleiman Mohammadi Samani, Amin Derakhshan far
Abstract
Wound healing is a dynamic and complex process of replacing devitalized and missing cellular structures and tissue layers. Due to the importance of wound healing, this investigation was designed to compare the effect of treatment using honey and colostrum on wound-healing process in rats. In this study, 80 adult female Sprague Dawley rats were randomly divided into four groups as negative control group, groups II, III, and IV were treated by honey, bovine colostrum, and honey + colostrum, respectively. Rats were anesthetized, hair was removed from the back, and then
a wound
was made on the back. Visual observation, histopathological examination, and biomechanical study were performed on days 3, 7, 14, and 21 after operation. Wound area in rats which taken colostrum and honey was lower than other groups. Promotion of wound contraction and epithelialization in rats that were treated with honey and colostrum was better than the others. Biomechanical parameters in animals were treated by colostrum and honey significantly more than other rats. A combination of honey and colostrum on wounds can enhance healing better than honey and colostrum separately.