01.12.2018 | Original investigation | Ausgabe 1/2018 Open Access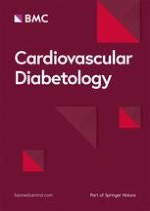 Evaluation of the impact of glycemic status on the progression of coronary artery calcification in asymptomatic individuals
Zeitschrift:
Autoren:

Ki-Bum Won, Donghee Han, Ji Hyun Lee, Sang-Eun Lee, Ji Min Sung, Su-Yeon Choi, Eun Ju Chun, Sung Hak Park, Hae-Won Han, Jidong Sung, Hae Ok Jung, Hyuk-Jae Chang
Abstract
Background
Data on the influence of glycemic status on the progression of coronary calcification, an important marker for future adverse cardiovascular events, are limited.
Methods
Data from the Korea Initiatives on Coronary Artery Calcification (KOICA) registry on 12,441 asymptomatic Korean adults (52 ± 9 years, 84.2% males) without previous history of coronary artery disease and stroke, who underwent serial coronary artery calcification (CAC) screening examinations, were included in this study. The median inter-scan period was 3.0 (2.0–4.8) years. All participants were categorized into three groups based on their glycemic status: normal (n = 6578), pre-diabetes (n = 4146), and diabetes (n = 1717). CAC progression was defined as a difference ≥ 2.5 between the square roots (√) of the baseline and follow-up CAC scores.
Results
The incidence of CAC progression was significantly different between the three groups (normal, 26.3%; pre-diabetes, 30.9%; and diabetes, 46.9%; p < 0.001). In the univariate logistic analysis, the risk of CAC progression was higher in the pre-diabetes (odds ratio [OR] 1.253; 95% confidential interval [CI] 1.150–1.366) and diabetes (OR 2.471; 95% CI 2.215–2.758) groups than in the normal group (p < 0.001, both). In the multivariate logistic analysis, the risk of CAC progression was not significantly different between the normal and pre-diabetes groups but was significantly higher in the diabetes group than in the normal group.
Conclusions
In asymptomatic subjects, diabetes had an incremental impact on CAC progression; however, pre-diabetes did not increase the risk of CAC progression after adjusting for confounding factors.