01.12.2012 | Research | Ausgabe 1/2012 Open Access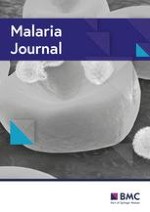 Evaluation of the malaria rapid diagnostic test SDFK90: detection of both PfHRP2 and Pf-pLDH
Zeitschrift:
Autoren:

Marloes Heutmekers, Philippe Gillet, Lieselotte Cnops, Emmanuel Bottieau, Marjan Van Esbroeck, Jessica Maltha, Jan Jacobs
Wichtige Hinweise
Competing interests
The authors declare that they have no competing interests.
Authors' contributions
PG and JJ designed the study protocol. MVE, JJ and EB organized prospective sample collection. MH and PG carried out the RDT test evaluations, LC performed PCR analysis. MH, PG, JM and JJ analysed and interpreted the results. MH, PG, JM and JJ drafted the manuscript. All authors critically reviewed the manuscript and approved the final manuscript.
Abstract
Background
Rapid diagnosis of
Plasmodium falciparum
infections is important because of the potentially fatal complications. SDFK90 is a recently marketed malaria rapid diagnostic test (RDT) targeting both histidine-rich protein 2 (PfHRP2) and
P
.
falciparum
-specific
Plasmodium
lactate dehydrogenase (Pf-pLDH). The present study evaluated its diagnostic accuracy.
Methods
SDFK90 was tested against a panel of stored whole blood samples (n= 591) obtained from international travellers suspected of malaria, including the four human
Plasmodium
species and
Plasmodium
negative samples. Microscopy was used as a reference method, corrected by PCR for species diagnosis. In addition, SDFK90 was challenged against 59
P
.
falciparum
samples with parasite density ≥4% to assess the prozone effect (no or weak visible line on initial testing and a higher intensity upon 10-fold dilution).
Results
Overall sensitivity for the detection of
P
.
falciparum
was 98.5% and reached 99.3% at parasite densities >100/μl. There were significantly more PfHRP2 lines visible compared to Pf-pLDH (97.3%
vs
86.9%), which was mainly absent at parasite densities <100/μl. Specificity of SDFK90 was 98.8%. No lot-to-lot variability was observed (
p
= 1.00) and test results were reproducible. A prozone effect was seen for the PfHRP2 line in 14/59 (23.7%)
P
.
falciparum
samples tested, but not for the Pf-pLDH line. Few minor shortcomings were observed in the kit's packaging and information insert.
Conclusions
SDFK90 performed excellent for
P
.
falciparum
diagnosis. The combination of PfHRP2 and Pf-pLDH ensures a low detection threshold and counters potential problems of PfHRP2 detection such as gene deletions and the prozone effect.