30.06.2017 | Original Article | Ausgabe 1/2018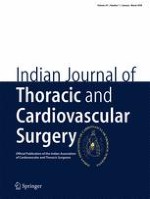 Evaluation of the results of surgery treatment in patients with congenital chest deformity
Autoren:

Seyed Hossein Fattahi Masoom, Marziyeh Nouri Dalouee, Marziyeh Abrahimzadeh, Zahra Rajai
Abstract
Purpose
Present study is designed to evaluate usefulness of sternochondroplasty and other surgical techniques in repairing congenital chest deformity.
Materials and methods
This study were considered in 51 patients undergoing congenital chest deformity repair with sternochondroplasty and other surgical techniques that had been referred to Thorax surgery ward of Gaem Hospital in Mashhad University of Medical Sciences between 1992 and 2012. Variables included were gender, age, symptoms, complications, recurrence, and cosmetic results.
Results
We studied 51 patients (male/female = 36/15) with mean age of 12.39 years (in 50 patients). The patient with central syndrome is 1 day old. Distribution of patients was 20 cases with pectus excavatum, 14 cases with pectus carinatum, 3 cases with sternal cleft, 3 cases with Poland syndrome, and one case with central syndrome. Congenital anomalies associated with patients included cardiac anomaly in 3 patients, ectopic testis in 1 patient, hand anomaly in 1 patient, skeletal anomaly in 1patient, and ear deformity in 1 patient. Complication after surgery was pneumothorax in 1 patient. Recurrence did not occur in patients. In 96% of cases, cosmetic result was excellent. Two hospital mortalities were reported.
Conclusion
Sternochondroplasty is an appropriate procedure in repairing congenital chest deformity. We did photography for most of patients before and after operation in order to compare results. We measured the distance between the deepest area on sternum and upper area on the chest wall with ruler .This way is simpler than CT scan imaging for measuring the degree of defect in pectus excavatum. Sternochondroplasty has the fewest complications. Cosmetic results are excellent. We had no recurrence after 2 years of follow-up. Patients with upper sternal cleft were repaired with apposition of sternal bars using steel wire, although in one patient we used prosthetic mesh because of extensive defect area. In patients with Poland syndrome we used latissimus dorsi for repairing of defect, and we recommended using autologous tissue for repair of defective area. Cantrell pentad is very rare disease and we have a little experience in treatment.