01.12.2015 | Research article | Ausgabe 1/2015 Open Access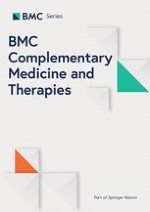 Evaluation of the wound healing property of
Commiphora guidottii

Chiov. ex. Guid.
Zeitschrift:
Autoren:

Michael Gebrehiwot, Kaleab Asres, Daniel Bisrat, Avijit Mazumder, Peter Lindemann, Franz Bucar
Wichtige Hinweise
Competing interests
There are no competing interests declared by the authors.
Authors' contributions
MG conceived the study, and conducted most of the laboratory experiments; analyzed and interpreted experimental results. AM conducted all the antimicrobial studies; KA and DB participated in the proposal, study design and manuscript preparations. PL carried out GC-MS studies and meticulously identified each of the components of the oil. FB performed TLC fingerprinting and corrected the manuscript. All authors read and approved the final manuscript.
Abstract
Background
The traditional use of the oleo-gum-resin of
Commiphora guidottii
Chiov. ex. Guid., which is commonly called scented myrrh, for topical treatment of wound is well documented. The major objective of the present study was to investigate the essential oil and resin obtained from
C. guidottii
for their potential wound healing properties. Due to their influence on the wound healing process, the anti-inflammatory and antimicrobial activities of scented myrrh have also been investigated.
Methods
Powdered oleo-gum-resin of
C. guidottii
was steam-distilled to obtain essential oil, and the resin was extracted from the marc with MeOH and filtered. The TLC fingerprint profile of the resin has been recorded by using silica gel GF
254
as stationary phase. The essential oil components were identified and quantified by GC-MS. Ointments prepared from the essential oil (4 % v/w) and the resin (5 % w/w) were used for wound healing activity tests. Toxicity of the formulated ointments was investigated according to Draize skin irritation test. Acute anti-inflammatory effect in mice was evaluated using carrageenan induced mouse hind paw oedema model. Antimicrobial activity tests were carried out using disk diffusion and broth dilution techniques against 21 pathogenic bacterial and 4 fungal strains.
Results
Ointment formulations of both the oil and resin were found to be non-irritant at the concentrations used and showed significant (
p
 < 0.05-0.001) increase in wound contraction rate, shorter epithelization time and higher skin breaking strength as compared to the negative control. Overall, the antibacterial and antifungal activities of the oil and resin were comparable with the standard antibiotics ciprofloxacin and griseofulvin, respectively.
Conclusion
The results confirm that scented myrrh possesses genuine wound healing activity supporting the traditional use of the plant.