15.02.2017 | Original Article | Ausgabe 3/2017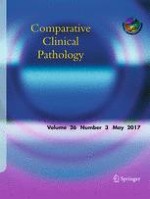 Evaluation of wound healing activity of St. John's Wort (
Hypericum perfoliatum

) in horses
Zeitschrift:
Autoren:

Giudice Elisabetta, Crinò Chiara, Salerno Gaetano, Rizzo Maria, Levanti Maria, Di Pietro Simona
Abstract
St. John's Wort (SJW) is an herbaceous medical plant. Since ancient times, SJW has been used to treat different kinds of mental and physical diseases and, for its antiseptic, anti-inflammatory and antibacterial properties. The aim of this study was to evaluate the wound healing activity of a phytotherapeutic product from St. John's Wort (SJW), herbaceous medical perennial plant, on skin lesions of different origins, in horses housed in Sicily (Italy). Six horses of different breeds, age and attitude were enrolled in the study. All the lesions were treated with an oil prepared from the aerial parts of
Hypericum perfoliatum
(
H. perfoliatum)
, macerated in oil under the sun. Topical application of the oil determined a significant improvement of skin lesions in all the horses involved in the study. Wound healing begun (Time1) in a period ranging from 2 days to 2 weeks (mean ± SD, 4 ± 1.89 days). The treatment resulted in complete resolution of wounds (Time2) in a period between 1 and 5 weeks (mean ± SD, 14.5 ± 8.2 days), while hair re-growth (Time3) was completed in period between 25 days and 2 months (mean ± SD, 33.25 ± 12.58 days). This study has certainly given a scientific point of view to a century of empiricism about the use of SJW in veterinary practice. The findings of this study seem to suggest that SJW may be considered an "all-in-one" remedy for wound healing, in order to make the management of skin injuries easier even for severe and complicated lesions.