01.12.2014 | Surgery Articles | Ausgabe 4/2014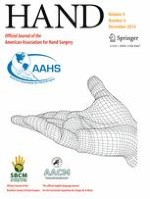 Evidence for safe tourniquet use in 500 consecutive upper extremity procedures
Zeitschrift:
Autoren:

Brian C. Drolet, Zachary Okhah, Benjamin Z. Phillips, Benjamin P. Christian, Edward Akelman, Julia Katarincic, Scott T. Schmidt
Abstract
Background
Although pneumatic tourniquets are widely used in upper extremity surgery, further evidence is needed to support their safe use. Excessive pressure and prolonged ischemic time can cause soft-tissue injury. The purpose of this study was to determine the safety of tourniquet use in a yearlong, consecutive series of patients.
Methods
A retrospective review of all patients who underwent upper extremity surgery by two board-certified hand surgeons over a 1-year period was performed. Demographic variables, comorbidities, and complications were noted along with tourniquet parameters, including application site, ischemic pressure, and time.
Results
A total 505 patients were included in the study because a tourniquet was used during their operation. Patients ranged in age from 3 months to 90 years old (mean 40.1 years). More than half of the population was overweight (mean body mass index (BMI) 27.1), and 77.1 % of adults had at least one cardiac risk factor. No immediate or delayed tourniquet-related injuries were identified. The average operative time was 35.9 min, with an average tourniquet time of 33.1 min. Tourniquet inflation pressure of 250 or 225 mmHg was utilized in 78 and 21 % of adult patients, respectively; no patients had a pressure setting exceeding 275 mmHg.
Conclusion
In this series of more than 500 operations, there were no immediate or delayed tourniquet-related events using parameters determined perioperatively by the attending surgeon. Tourniquet pressures of 250 mmHg or less in adult patients with less than 2 h of ischemic time appear to be safe, even in the elderly and patients with multiple medical comorbidities.