01.12.2018 | Protocol | Ausgabe 1/2018 Open Access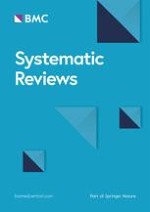 Evidence of patients' challenges and barriers related to usage of Implanon®: scoping review protocol
Zeitschrift:
Autoren:

Shimona Prosad, Tivani P Mashamba-Thompson, Elizabeth Ojewole
Abstract
Background
According to the United Nations Trends in Contraceptive Use 2015 report, at least one in ten married or in-union women in most regions of the world has an unmet need for family planning. Family Planning 2020 reports an estimate of almost 134 million married or in-union women of reproductive age who have an unmet need for modern methods of contraception in 2016 in participating countries. Family planning has therefore been highlighted as a global unmet need. Initiatives such as Family Planning 2020 aim to promote contraceptive use through Implanon® contraceptive implant. Implanon® has been reported to be a highly effective form of contraception. However, poor outcomes from users of the Implanon® have been reported in recent studies. The main objective of this review is to map the literature for the evidence on usage of Implanon® in order to reveal challenges and barriers.
Methods and analysis
A scoping review searching evidence on Implanon® use will be conducted. Relevant studies will be identified from 1998 to present. The following databases: PubMed, MEDLINE, EBSCOhost, Google Scholar and Cochrane library will be searched for peer-reviewed literature. We will also search for grey literature in this study area. The eligibility criteria will guide the study selection. A data charting table will be designed to extract information from the literature. The results of this study will be reported by use of the Preferred Reporting Items for Systematic Reviews and Meta-Analyses (PRISMA). Data will be analysed using thematic analysis and the NVIVO software version 10. The mixed method appraisal tool (MMAT) will be used to assess the quality of included studies.
Discussion
We anticipate finding relevant studies on the use of Implanon®. Evidence gathered from included studies will help us identify gaps in research and help guide future research on Implanon® usage. This information can also help guide implementers and users on challenges and barriers related to use of Implanon®.
Systematic review registration