15.06.2017 | Original Article | Ausgabe 12/2017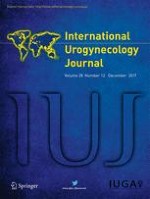 Evidence to justify retention of transvaginal mesh: comparison between laparoscopic sacral colpopexy and transvaginal Elevate™ mesh
Zeitschrift:
Autoren:

Valérie To, Pattaya Hengrasmee, Alan Lam, Georgina Luscombe, Anna Lawless, Justin Lam
Wichtige Hinweise
The abstract was presented at the 45th AAGL Global Congress on Minimally Invasive Gynecologic Surgery in Orlando, USA on November 17th and was awarded the "Best Abstract on Urogynecology/Pelvic Floor Disorders/Vaginal Surgery"
Abstract
Introduction and hypothesis
To determine if laparoscopic sacral colpopexy (LSC) offers better apical support with a lower exposure rate than transvaginal mesh surgery with Elevate™.
Methods
This was a retrospective cohort study comparing patients with apical prolapse (POP-Q point C ≥ −1) who underwent Elevate™ mesh repair (
n
= 146) with patients who underwent laparoscopic sacral colpopexy (
n
= 267).
Results
The sacral colpopexy group had a mean age of 59 years and a BMI of 25.7. Patients in the Elevate™ group were older, with a mean age of 63 and a BMI of 26.3. Most of the patients of both groups presented with pelvic organ prolapse stage III (LSC 73.8% and Elevate™ 87.0%) and their mean POP-Q point C were not significantly different (LSC 1.4 vs Elevate™ 1.2 cm). Operative time was longer in the LSC group (113 vs 91 min,
p
< 0.001), but estimated blood loss was lower (75 cm
3
vs 137 cm
3
,
p
< 0.001). No difference in mesh exposure rate could be found between the two groups at one year (Elevate™ 0.7% vs LSC 2.6%, OR 0.26, 95% CI 0.03 to 2.10,
p
= 0.21). One-year objective cure rate, defined as no descent beyond the hymen, was 97.0% in the LSC group and 96.6% in the Elevate™ group (
p
= .81). The overall recurrence (objective, subjective recurrence or reoperation) was also not different between the groups (LSC 4.5% vs Elevate 4.8%,
p
= 0.89).
Conclusion
Transvaginal Elevate™ mesh delivers comparable apical support with a low exposure rate similar to that of laparoscopic sacral colpopexy.