18.08.2017 | Original Contributions | Ausgabe 2/2018 Open Access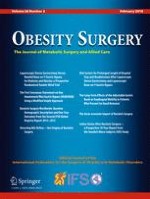 Evolution of 29 Anthropometric, Nutritional, and Cardiometabolic Parameters Among Morbidly Obese Adolescents 2 Years Post Sleeve Gastrectomy
Zeitschrift:
Autoren:

Wahiba Elhag, Walid El Ansari, Sama Abdulrazzaq, Ali Abdullah, Mohamed Elsherif, Israa Elgenaied
Abstract
Background
Laparoscopic sleeve gastrectomy (LSG) is a popular treatment for adolescent morbid obesity. Research on LSG outcomes among adolescents assessed a narrow range of anthropometric, nutritional, or cardiometabolic parameters, leading to an incomplete picture of these changes. We examined a wide variety of anthropometric, nutritional, and cardiometabolic parameters among adolescents before and after LSG.
Methods
We retrospectively reviewed medical charts of all obese adolescents who underwent LSG at Hamad Medical Corporation, Qatar, between January 2011 and June 2015 (
N
= 102). We assessed preoperative levels and postoperative changes in 4 anthropometric, 15 nutritional, and 10 cardiometabolic parameters.
Results
The study sample comprised 79 patients with complete information (36 males, mean age 15.99 ± 1.1 years). At a mean of 24.2 months post-LSG, we observed (1) significantly reduced mean weight and body mass index by 51.82 ± 28.1 kg and 17 ± 6.24 kg/m2, respectively; (2) the highest prevalence of post-LSG deficiencies pertained to vitamin D, albumin, and ferritin (89.3, 38, and 33.3%, respectively); (3) low hemoglobin levels (29.3%) only in females; (4) trace elements were not deficient; (4) significant reductions in percentage of adolescents with elevated low-density lipoprotein (from 66.1 to 38.9%), alanine aminotransferase (from 45.3 to 10.9%), and aspartate aminotransferase (from 24.1 to 8.6%) levels; (5) 100% remission of prediabetes cases; and (6) 80% remission of type 2 diabetes cases.
Conclusions
LSG achieved significant weight loss and improvement of cardiometabolic risk factors among adolescents. However, the slight worsening of preexisting nutritional deficiencies warrants careful preoperative surveillance and appropriate postoperative nutritional supplementation.