09.03.2020 | Original Contributions | Ausgabe 7/2020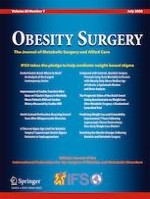 Evolution of Hematological Parameters During the First 2 Years After Laparoscopic Sleeve Gastrectomy: Results of a Retrospective Study
Zeitschrift:
Autoren:

Nang Hseng Kyio, Seda Turgut, Tuba Ozkan, Guven Cetin
Wichtige Hinweise
Publisher's Note
Springer Nature remains neutral with regard to jurisdictional claims in published maps and institutional affiliations.
Abstract
Purpose
Laparoscopic sleeve gastrectomy (LSG) is one of the most effective bariatric surgery methods of treatment for obesity. It can cause nutritional deficiencies and lead to anemia at the same time. The aim of the present study is to retrospectively investigate whether the supplement treatment administration to cases that underwent LSG is sufficient in terms of the hematological parameters.
Material and Methods
A total of 494 obese patients between 18 and 65 years who underwent LSG were recruited to the study. Vitamin B12, iron, and folic acid replacement therapy are prescribed to all patients who can be followed-up at regular intervals. We compared hemogram, iron studies, vitamin B12, and folic acid values of these patients at preoperative and at first visit (1 month), 3, 6, 12, and 24 months post-surgery.
Results
The number of patients with anemia and vitamin B12 and folic acid deficiencies decreased significantly during the follow-up with supplementation. Postoperative leucocyte and thrombocyte levels were significantly lower than the preoperative levels.
Conclusion
Our study indicates that the proper supplementation therapy in patients attending regular follow-up helps to keep hematological parameters within the normal range and to improve anemia and deficiencies of vitamin B12 and folic acid. Compliance with follow-up programs is essential after costly and invasive treatments such as sleeve gastrectomy to improve the well-being of patients in the long-term and to maximize compliance.