01.12.2015 | Research article | Ausgabe 1/2015 Open Access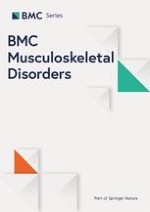 Examining outcome of early physician specialist assessment in injured workers with shoulder complaints
Zeitschrift:
Autoren:

Helen Razmjou, Dragana Boljanovic, Sandra Lincoln, Chris Geddes, Iona Macritchie, Caterina Virdo-Cristello, Robin R Richards
Wichtige Hinweise
Competing interests
The authors declare that they have no competing interests. No external funding was received for this study.
Authors' contributions
HR (PT, PhD) conceived the idea, supervised data extraction and entry, performed data analysis and drafted the manuscript. SL (PT, MSc) and DB (PT, MSc) performed clinical examination and reviewed electronic files of patients who were referred for investigations. CG (BSc, MSc, FRCSC) performed clinical examination. IM (BHSc, MHSc, OT, CHE), CV (BPHE, BScPT, RPT) and RRR (MD, FRCSC) posed research questions and were involved in program development. All authors have contributed to data analysis interpretation and manuscript preparation and have read and approved the final manuscript.
Abstract
Background
There is minimal research on demographics, type of injury and diagnosis of injured workers with shoulder problems. The purposes of this study were: 1) to document the demographics of patients with shoulder complaints referred to an Early Shoulder Physician Assessment (ESPA) Program and to describe the recommended management, and 2) to examine the relationship between patient characteristics and their subjective complaints of pain and functional difficulty.
Methods
This study involved a retrospective review of electronic files of injured workers mostly seen within the first 16 weeks of injury or recurrence. Measures of functional difficulty and pain were the Quick Disabilities of the Arm, Shoulder and Hand (QuickDASH) and Numeric Pain Scale (NPS).
Results
Files of 550 consecutive patients, 260 females (47%), 290 men (53%) were examined. The average age was 49 (SD = 11, range 22–77), with 28 (5%) patients being 65 years of age or older. Patients who were not working were the most disabled group based on Quick DASH (F = 49.93, p < 0.0001) and NPS (F = 10.24, p = 0.002). Patients who were working full time performing regular duties were the least disabled according to both measures, the QuickDASH (F = 10.24, p = 0.002) and NPS (F = 7.57, p = 0.006).
Patients waiting more than 16 weeks were slightly older (53 years of age vs. 49, p = 0.045) than those who met the criteria for early assessment with similar levels of pain and functional difficulty. Biceps pathology had the highest prevalence (37%). Full thickness tear had a prevalence of 14%. Instability, labral lesions and osteoarthritis of glenohumeral joint were uncommon conditions (3, 2 and 1% respectively). Fifty-five patients (10%) were surgical candidates and had higher scores on QuickDASH (F = 7.16, p = 0.008) and NPS (F = 4.24, p = 0.04) compared to those who did not require surgery.
Conclusions
This study provides information on characteristics and prevalence of important variables in injured workers with shoulder problems and highlights the impact of these characteristics on pain and disability.