01.05.2009 | Ausgabe 5/2009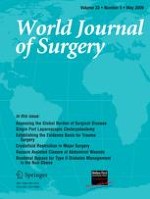 Excellent Prognosis of Patients with Nonhereditary Medullary Thyroid Carcinoma with Ultrasonographic Findings of Follicular Tumor or Benign Nodule
Zeitschrift:
Autoren:

Mitsuhiro Fukushima, Yasuhiro Ito, Mitsuyoshi Hirokawa, Akihiro Miya, Kaoru Kobayashi, Haruki Akasu, Kazuo Shimizu, Akira Miyauchi
Abstract
Background
Medullary thyroid carcinoma (MTC) accounts for only 1.4% of all thyroid malignancies in Japan. Generally, MTC shows ultrasonographic findings typical of thyroid carcinoma. However, in our experience, some MTC may be diagnosed as a follicular tumor or a benign nodule on ultrasonography because ultrasonographic findings of malignancy are lacking. In this study we investigated differences in biological behavior between these two types of MTC.
Methods
Seventy-seven patients with nonhereditary MTC who underwent surgery in our department between 1988 and 2007 were enrolled in this study. Of these patients, 54 were diagnosed as having thyroid carcinoma (malignant, or M-type) but the remaining 23 were diagnosed as having follicular tumor or benign nodule (benign, or B-type) on ultrasonography.
Results
Clinically apparent lateral node metastasis, extrathyroid extension, and extranodal tumor extension were observed in 37%, 17%, and 11% of M-type patients, respectively, but none of the B-type patients showed any of these features. All B-type patients but only 59% of M-type patients were biochemically cured. Lymph node metastasis was pathologically confirmed in 38 and 65% of B-type and M-type patients, respectively. Eight patients showed recurrence and three have died of carcinoma to date; all of these patients were M-type patients.
Conclusions
B-type MTC is highly indolent and shows an excellent prognosis. However, thyroidectomy and lymph node dissection for B-type MTC should be the same as for M-type MTC because 38% of B-type MTC showed pathologic node metastasis.