01.12.2018 | Research article | Ausgabe 1/2018 Open Access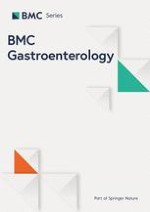 Exclusive enteral nutrition with concomitant early thiopurine use was effective in maintaining steroid-free remission in a Southeast Asian cohort of children with Crohn's disease
Zeitschrift:
Autoren:

Christina Ong, Poh Ting Lim, Veena Logarajah, Maria Janelle Liwanag, Bi Xia Ang, Yuqin Cher, Fang Kuan Chiou, Ajmal Kader
Abstract
Background
Exclusive enteral nutrition (EEN) is as effective as corticosteroids in inducing remission in children with Crohn's disease (CD). However, over 50% of these children relapse by 12 months of diagnosis. Thiopurines are commonly prescribed as maintenance therapy for CD, but evidence for its efficacy is controversial. Data on the effectiveness of EEN in Southeast Asian (SEA) children with CD is scarce. This study aims to evaluate the efficacy of EEN induction therapy in a cohort of SEA children with newly diagnosed CD. The secondary aim was to evaluate concomitant early azathioprine (EAZ) use in determining remission rate at 6 and 12 months.
Methods
Case records of all children with newly diagnosed CD from 2011 to 2014 were reviewed and relevant demographic as well as clinical data were extracted. The primary outcome measure was the number of patients who completed EEN induction therapy and achieved remission (Paediatric Crohn's Disease Activity Index; PCDAI≤10). Factors influencing duration of remission were evaluated in particular early azathioprine (EAZ) defined as starting azathioprine within one month of diagnosis versus late azathioprine (LAZ) use.
Results
Forty children with newly diagnosed CD were identified. Thirty-three children: 67% boys, median age 13y (range 3–17) completed 8 weeks of EEN induction therapy and 91% achieved remission. Significant improvements were seen in PCDAI scores (32.7 ± 9.2 to 4.2 ± 5.1;
p
 < 0.001), mean BMI z-score (− 1.38 ± 1.57 to − 0.82 ± 1.27;
p
 = 0.004) and baseline inflammatory markers: Erythrocyte Sedimentation Rate (51.6 ± 30.1 mm/h to 13.3 ± 7.1 mm/h;
p
 < 0.0001) C-Reactive Protein (44.6 ± 51.0 mg/L to 5.2 ± 7.6 mg/L;
p
 = 0.001), Albumin (30.7 ± 7.5 g/L to 38.7 ± 3.9 g/L;
p
 < 0.0001), Platelets (464 ± 161 × 10
9
to 370 ± 111 × 10
9
;
p
 < 0.0001),. Early azathioprine initiation was associated with a remission rate of 80 and 73% at 6 and 12 months respectively. Remission was also maintained for longer duration in EAZ vs LAZ groups (
p
 = 0.048).
Conclusion
EEN effectively induces remission in this cohort of SEA children with newly diagnosed CD. Early initiation of thiopurine with EEN induction therapy is effective in maintaining steroid-free remission for at least one year.