01.07.2016 | Original Contribution | Ausgabe 4/2016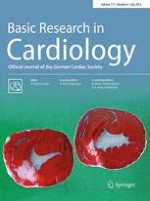 Exercise does not activate the β3 adrenergic receptor–eNOS pathway, but reduces inducible NOS expression to protect the heart of obese diabetic mice
Zeitschrift:
Autoren:

Adrien Kleindienst, Sylvain Battault, Elise Belaidi, Stephane Tanguy, Marie Rosselin, Doria Boulghobra, Gregory Meyer, Sandrine Gayrard, Guillaume Walther, Bernard Geny, Gregory Durand, Olivier Cazorla, Cyril Reboul
Wichtige Hinweise
Electronic supplementary material
The online version of this article (doi:
10.​1007/​s00395-016-0559-0
) contains supplementary material, which is available to authorized users.
A. Kleindienst and S. Battault contributed equally to this work.
O. Cazorla, C. Reboul are senoir co-authors.
Abstract
Obesity and diabetes are associated with higher cardiac vulnerability to ischemia–reperfusion (IR). The cardioprotective effect of regular exercise has been attributed to β3-adrenergic receptor (β3AR) stimulation and increased endothelial nitric oxide synthase (eNOS) activation. Here, we evaluated the role of the β3AR–eNOS pathway and NOS isoforms in exercise-induced cardioprotection of C57Bl6 mice fed with high fat and sucrose diet (HFS) for 12 weeks and subjected or not to exercise training during the last 4 weeks (HFS-Ex). HFS animals were more sensitive to in vivo and ex vivo IR injuries than control (normal diet) and HFS-Ex mice. Cardioprotection in HFS-Ex mice was not associated with increased myocardial eNOS activation and NO metabolites storage, possibly due to the β3AR–eNOS pathway functional loss in their heart. Indeed, a selective β3AR agonist (BRL37344) increased eNOS activation and had a protective effect against IR in control, but not in HFS hearts. Moreover, iNOS expression, nitro-oxidative stress (protein s-nitrosylation and nitrotyrosination) and ROS production during early reperfusion were increased in HFS, but not in control mice. Exercise normalized iNOS level and reduced protein s-nitrosylation, nitrotyrosination and ROS production in HFS-Ex hearts during early reperfusion. The iNOS inhibitor 1400 W reduced in vivo infarct size in HFS mice to control levels, supporting the potential role of iNOS normalization in the cardioprotective effects of exercise training in HFS-Ex mice. Although the β3AR–eNOS pathway is defective in the heart of HFS mice, regular exercise can protect their heart against IR by reducing iNOS expression and nitro-oxidative stress.