06.04.2018 | Ausgabe 1/2019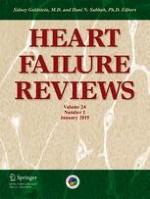 Exercise rehabilitation in ventricular assist device recipients: a meta-analysis of effects on physiological and clinical outcomes
Zeitschrift:
Autoren:

Liza Grosman-Rimon, Spencer D. Lalonde, Nina Sieh, Maureen Pakosh, Vivek Rao, Paul Oh, Sherry L. Grace
Wichtige Hinweise
Electronic supplementary material
What is already known about this subject?
Ventricular assist device (VAD) recipients have persistently reduced functional capacity and hence low quality of life. Early data suggest that exercise rehabilitation may improve both functional capacity and quality of life.
What does this study add?
Through meta-analysis, exercise rehabilitation was shown to result in significantly improved functional capacity (peak VO2 and 6-min walk test distance) when compared to usual care. Benefits were also observed in quality of life and chronotropic responses, but not exercise physiology parameters.
How might this impact on clinical practice?
These results provide support for clinical practice recommendations that VAD recipients receive exercise training. Cardiac rehabilitation societies should develop education programs for professionals to increase capacity to treat this population.
Abstract
Exercise rehabilitation in heart failure patients has been shown to improve quality of life (QoL) and survival. It is also recommended in clinical practice guidelines for ventricular assist device (VAD) recipients. However, there have only been two meta-analyses on the effects of exercise rehabilitation in VAD patients, on only two outcomes. The objective of the review was to quantitatively evaluate the effect of exercise rehabilitation in VAD recipients on functional capacity, exercise physiology parameters, chronotropic responses, inflammatory biomarkers and neurohormones, heart structure and function, and clinical outcomes. The following databases were systematically searched: CCTR, CDSR, CINAHL, EMBASE, PsycInfo, and Medline through to November 2015, for studies reporting on VAD recipients receiving ≥ 2 sessions of aerobic training. Citations were considered for inclusion, and data were extracted in included studies as well as quality assessed, each by two investigators independently. Random-effects meta-analyses were performed where possible. The meta-analysis showed that compared to usual care, exercise rehabilitation significantly improved peak VO
2
(
n
 = 74, mean difference = 1.94 mL kg
−1
min
−1
, 95% CI 0.63–3.26,
p
 = 0.004) and 6-min walk test distance (
n
 = 52, mean difference = 42.46 m, 95% CI 8.45–76.46,
p
 = 0.01). No significant differences were found for the ventilatory equivalent slope (VE/VCO
2
) or ventilatory anaerobic threshold (VAT). In the six studies which reported QoL, exercise rehabilitation was beneficial in four, with no difference observed in two studies. Exercise rehabilitation is associated with improved outcomes in VAD recipients, and therefore should be more systematically delivered in this population.