01.12.2012 | Research | Ausgabe 1/2012 Open Access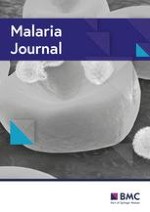 Existence of the
rdl

mutant alleles among the

anopheles

malaria vector in Indonesia
Zeitschrift:
Autoren:

Puji BS Asih, Lepa Syahrani, Ismail EP Rozi, Nandha R Pratama, Sylvia S Marantina, Dian S Arsyad, Wibowo Mangunwardoyo, William Hawley, Ferdinand Laihad, Shinta, Supratman Sukowati, Neil F Lobo, Din Syafruddin
Wichtige Hinweise
Electronic supplementary material
The online version of this article (doi:
10.​1186/​1475-2875-11-57
) contains supplementary material, which is available to authorized users.
Competing interests
The authors declare that they have no competing interests.
Authors' contributions
DS, LS, PBSA, IEPR, NRP, SSM, S, WM and DSA performed molecular assays, data analysis, and the manuscript writing. PBSA and LS have equal contribution for this study. SS, S collected field samples and performed data analysis. DS, SS, FL, NFL, and WH designed the study and manuscripts writing were responsible for management and fund raising for this study. All authors read and approved the manuscript. This study is part of the thesis for Master of Science Programme at the University of Indonesia for LS.
Abstract
Background
The gamma-aminobutyric acid (GABA) receptor-chloride channel complex is known to be the target site of dieldrin, a cyclodiene insecticide. GABA-receptors, with a naturally occurring amino acid substitution, A302S/G in the putative ion-channel lining region, confer resistance to cyclodiene insecticides that includes aldrin, chlordane, dieldrin, heptachlor, endrin and endosulphan.
Methods
A total of 154 mosquito samples from 10 provinces of malaria-endemic areas across Indonesia (Aceh, North Sumatra, Bangka Belitung, Lampung, Central Java, East Nusa Tenggara, West Nusa Tenggara, West Sulawesi, Molucca and North Molucca) were obtained and identified by species, using morphological characteristic. The DNA was individually extracted using chelex-ion exchanger and the DNA obtained was used for analyses using sequencing method.
Results
Molecular analysis indicated 11% of the total 154
Anopheles
samples examined, carried
Rdl
mutant alleles. All of the alleles were found in homozygous form.
Rdl
302S allele was observed in
Anopheles vagus
(from Central Java, Lampung, and West Nusa Tenggara),
Anopheles aconitus
(from Central Java),
Anopheles barbirostris
(from Central Java and Lampung),
Anopheles sundaicus
(from North Sumatra and Lampung),
Anopheles nigerrimus
(from North Sumatra), whereas the 302 G allele was only found in
Anopheles farauti
from Molucca.
Conclusion
The existence of the
Rdl
mutant allele indicates that, either insecticide pressure on the
Anopheles
population in these areas might still be ongoing (though not directly associated with the malaria control programme) or that the mutant form of the
Rdl
allele is relatively stable in the absence of insecticide. Nonetheless, the finding suggests that integrated pest management is warranted in malaria-endemic areas where insecticides are widely used for other purposes.