14.09.2017 | Epidemiology | Ausgabe 1/2018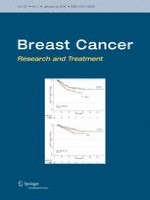 Exome array analysis identifies
ETFB

as a novel susceptibility gene for anthracycline-induced cardiotoxicity in cancer patients
Zeitschrift:
Autoren:

Sara Ruiz-Pinto, Guillermo Pita, Miguel Martín, Teresa Alonso-Gordoa, Daniel R. Barnes, María R. Alonso, Belén Herraez, Purificación García-Miguel, Javier Alonso, Antonio Pérez-Martínez, Antonio J. Cartón, Federico Gutiérrez-Larraya, José A. García-Sáenz, Javier Benítez, Douglas. F. Easton, Ana Patiño-García, Anna González-Neira
Wichtige Hinweise
Electronic supplementary material
The online version of this article (doi:
10.​1007/​s10549-017-4497-9
) contains supplementary material, which is available to authorized users.
Abstract
Purpose
Anthracyclines are widely used chemotherapeutic drugs that can cause progressive and irreversible cardiac damage and fatal heart failure. Several genetic variants associated with anthracycline-induced cardiotoxicity (AIC) have been identified, but they explain only a small proportion of the interindividual differences in AIC susceptibility.
Methods
In this study, we evaluated the association of low-frequency variants with risk of chronic AIC using the Illumina HumanExome BeadChip array in a discovery cohort of 61 anthracycline-treated breast cancer patients with replication in a second independent cohort of 83 anthracycline-treated pediatric cancer patients, using gene-based tests (SKAT-O).
Results
The most significant associated gene in the discovery cohort was
ETFB
(electron transfer flavoprotein beta subunit) involved in mitochondrial β-oxidation and ATP production (
P
= 4.16 × 10
−4
) and this association was replicated in an independent set of anthracycline-treated cancer patients (
P
= 2.81 × 10
−3
). Within
ETFB
, we found that the missense variant rs79338777 (p.Pro52Leu; c.155C > T) made the greatest contribution to the observed gene association and it was associated with increased risk of chronic AIC in the two cohorts separately and when combined (OR 9.00,
P
= 1.95 × 10
−4
, 95% CI 2.83–28.6).
Conclusions
We identified and replicated a novel gene,
ETFB
, strongly associated with chronic AIC independently of age at tumor onset and related to anthracycline-mediated mitochondrial dysfunction. Although experimental verification and further studies in larger patient cohorts are required to confirm our finding, we demonstrated that exome array data analysis represents a valuable strategy to identify novel genes contributing to the susceptibility to chronic AIC.