01.12.2018 | Primary Research | Ausgabe 1/2018 Open Access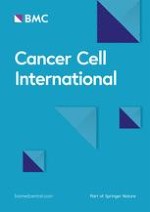 Exosomal lncRNA 91H is associated with poor development in colorectal cancer by modifying HNRNPK expression
Zeitschrift:
Autoren:

Tianyi Gao, Xiangxiang Liu, Bangshun He, Zhenlin Nie, Chengbin Zhu, Pei Zhang, Shukui Wang
Wichtige Hinweise
Tianyi Gao and Xiangxiang Liu contributed equally to this work
Abstract
Background
Exosomes mediated transfer of lncRNA 91H may play a critical role in the development of CRC. However, few studies have proved the mechanism. So we performed this study to deeply explore the biological functions of exosomal 91H in the development and progression of CRC.
Methods
The association between lncRNA 91H and exosomes was detected in vitro and vivo. Then RNA pulldown and RIP were used to detect how lncRNA 91H affect CRC IGF2 express. At last, clinic pathological significance of exosomal 91H was evaluated by Cox proportional hazards model.
Results
We found that serum lncRNA 91H expression was closely related to cancer exosomes in vitro and vivo which may enhance tumor-cell migration and invasion in tumor development by modifying HNRNPK expression. Then the clinic pathological significance of exosomal 91H was evaluated which demonstrated that CRC patients with high lncRNA 91H expression usually showed a higher risk in tumor recurrence and metastasis than patients with low lncRNA 91H expression (P < 0.05).
Conclusion
All these data suggested that exosomal lncRNA 91H enhancing CRC metastasis by modifying HNRNPK expression might be an early plasma-based biomarker for CRC recurrence or metastasis. Further large-scale studies are needed to confirm our findings.