10.10.2020 | Original Article | Ausgabe 6/2020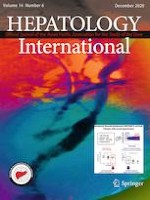 Exosomal miR-199a-5p promotes hepatic lipid accumulation by modulating MST1 expression and fatty acid metabolism
Zeitschrift:
Autoren:

Yuhan Li, Yansong Luan, Jianning Li, Hui Song, Yan Li, Hi Qi, Bo Sun, Peng Zhang, Xianxian Wu, Xing Liu, Yanhui Yang, Wufan Tao, Lei Cai, Zhiwei Yang, Yi Yang
Wichtige Hinweise
Electronic supplementary material
Publisher's Note
Springer Nature remains neutral with regard to jurisdictional claims in published maps and institutional affiliations.
Abstract
Background and Aims
Non-alcoholic fatty liver disease (NAFLD) and its complications has become an expanding health problem worldwide with limited therapeutic approaches. The current study was aiming to identify novel microRNA in the regulation of hepatic lipid metabolism in NAFLD.
Approches and Results
Systematic screening of microRNA expression by high-throughput small RNA sequencing demonstrated that microRNA 199a-5p (miR-199a-5p) was significantly upregulated in high fat diet-induced steatosis mouse model, with the most abundant expression in adipose tissue. MST1 was further identified as the target gene for miR-199a with specific recognition at the 3′ untranslated region with dural luciferase reporter assay. Delivery of miR-199a-5p with exosomes into mice aggravated liver lipid accumulation in hepatocytes, accompanied by down-regulation of hepatic MST1 expression and modulation of hepatic lipogenesis and lipolysis, including SREBP-1c, AMPK signaling cascades and the down-stream CPT1α and FASN. Conversely, administration of exosome containing anti-miR-199a-5p resulted in attenuated steotosis in mice fed on high fat diet. Importanly, miR-199a-5p-induced abnormal cellular lipid accumulation could be markedly reversed by overexpression of MST1.
Conclusion
miR-199a-5p might be an essentail regulator for hepatic lipid metabolism, possibly through its interction with MST1 and the subsequent signaling cascade. Thus, miR-199a-5p may serve as an important therapeutic target in the treatment of NAFLD.