28.08.2018 | Original Article | Ausgabe 5/2018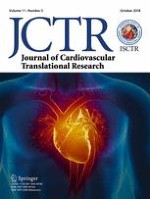 Exosome-Derived Dystrophin from Allograft Myogenic Progenitors Improves Cardiac Function in Duchenne Muscular Dystrophic Mice
Zeitschrift:
Autoren:

Xuan Su, Yue Jin, Yan Shen, Chengwei Ju, Jingwen Cai, Yutao Liu, Il-man Kim, Yu Wang, Hong Yu, Neal L. Weintraub, Meng Jiang, Yaoliang Tang
Wichtige Hinweise
Associate Editor Enrique Lara-Pezzi oversaw the review of this article
Xuan Su and Yue Jin contributed equally to this work.
Abstract
Progressive cardiomyocyte loss in Duchenne muscular dystrophy (DMD) leads to cardiac fibrosis, cardiomyopathy, and eventually heart failure. In the present study, we observed that myogenic progenitor cells (MPC) carry mRNA for the dystrophin gene. We tested whether cardiac function can be improved in DMD by allograft transplantation of MPC-derived exosomes (MPC-Exo) into the heart to restore dystrophin protein expression. Exo from C2C12 cells (an MPC cell line) or vehicle were delivered locally into the hearts of MDX mice. After 2 days of treatment, we observed that MPC-Exo restored dystrophin expression in the hearts of MDX mice, which correlated with improved myocardial function in dystrophin-deficient MDX mouse hearts. In conclusion, this study demonstrated that allogeneic WT-MPC-Exo transplantation transiently restored dystrophin gene expression and improved cardiac function in MDX mice, suggesting that allogenic exosomal delivery may serve as an alternative treatment for cardiomyopathy of DMD.