07.10.2017 | Original Article | Ausgabe 3/2018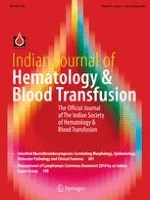 Experience with the Use of Nilotinib in Indian Patients
Zeitschrift:
Autoren:

Avaronnan Manuprasad, Prasanth Ganesan, Trivadi S. Ganesan, Venkatraman Radhakrishnan, Manikandan Dhanushkodi, Samson Mani, Tenali Gnana Sagar
Abstract
Important genetic and ethnic factors could affect the toxicity and efficacy of tyrosine kinase inhibitors. Though nilotinib has been available in India since 2010, there is no report on its safety and toxicity from Indian patients with chronic myeloid leukemia. This is an analysis of efficacy and toxicity of nilotinib when used as a
second line drug
after failure or intolerance to imatinib. Thirty-seven patients started nilotinib [median age 46 years, median duration from diagnosis 5 years, 73% in chronic phase at time of switch] between 2010 to 2016. Reason for switch: failure of imatinib in 33 (89%) and intolerance in 4 (11%). Starting dose 600 mg/day. Dose modifications: 15 (40%) patients required initial dose modifications, but subsequently 25 (67%) patients could tolerate 600 mg/day. Nine (24%) patients were able to tolerate 800 mg/day. The commonest grade 3/4 toxicities were thrombocytopenia (n = 9, 24%), hyperbilirubinemia (n = 7, 18%) and leukopenia (n = 3, 8%). Six patients (16%) discontinued nilotinib due to toxicity while 8 (21%) stopped due to lack of efficacy. After a median duration of 14 months among those continuing nilotinib, 54% of patients responded which included 14 patients who achieved CHR and seven who achieved major molecular response. In the first report on use of nilotinib in Indian patients, we observed a higher incidence of liver toxicity compared to previous reports. This should be seen the context that all these patients received nilotinib as second line therapy.