01.11.2015 | Clinical Article - Brain Tumors | Ausgabe 11/2015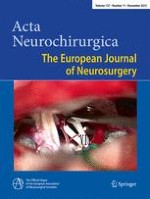 Experiences on two different stereotactic radiosurgery modalities of Gamma Knife and Cyberknife in treating brain metastases
Zeitschrift:
Autoren:

Young Hyun Cho, Jung Min Lee, Doheui Lee, Jae Hong Park, KyoungJun Yoon, Seon Ok Kim, Do Hoon Kwon, Jeong Hoon Kim, Chang Jin Kim, Sung Woo Roh
Wichtige Hinweise
This paper was presented at the 12th International Stereotactic Radiosurgery Society Congress held in Yokohama, Japan, June 7-11, 2015
Comment
This study compared both the dosimetric properties and clinical outcome of Gamma Knife treatment for small cerebral metastases with Cyberknife treatment for large metastases. Such studies are usually geared towards trying to prove that one or another technology is superior and it is reassuring to read that we may have passed that stage in development of radiosurgery. Quite rightly, the authors have chosen the use of one or another machine, guided by the perceived advantages of each in the different clinical situations, particularly tumour size.
Naturally, there will be significant dosimetric differences, but at least in this setting they did not result in significant clinical outcome differences. With the study (understandably) not being a randomized one, there will be natural differences in anatomical position of the tumours so one may not be able to draw far-going conclusions. In a clinically vital anatomical position (e.g. brainstem), the wider margin of normal tissues receiving the peripheral dose fall-off may indeed have made a difference.
Of course, this approach means that comparison is made between apples and oranges, small and large metastases. Therefore the only lesson one can learn is that treating large metastases using hypo-fractionated radiosurgery using a Cyberknife is as safe and as effective as treating small lesions with a Gamma Knife, the latter being a more or less universally accepted intervention. This clearly broadens the application of radiosurgery.
Andras Kemeny
Sheffield, UK
Abstract
Background
In this study, we compared the dosimetric properties between Gamma Knife (GK) and Cyberknife (CK), and investigated the clinical implications in treating brain metastases (BMs).
Methods
Between 2011 and 2013, 77 patients treated with either single-fraction GK for small BMs (
n
 = 40) or fractionated CK for large BMs >3 cm (
n
 = 37) were analyzed. Among a total of 160 lesions, 81 were treated with GK (median, 22 Gy) and 38 (large lesions) with three- or five-fraction CK (median, 35 Gy). The median tumor volume was 1.0 cc (IQR, 0.12–4.4 cc) for GK and 17.6 cc (IQR, 12.8–23.7 cc) for fractionated CK. A lesion-to-lesion dosimetric comparison was performed using the identical contour set in both systems.
Results
The mean dose to tumor was significantly higher in GK by 1.25-fold (
P
 < 0.001), whereas normal tissue volume receiving 90–10 % of prescription dose was significantly larger in CK by 1.26-fold (
P
 < 0.001). Nevertheless, no differences were observed in local tumor control (rates at 1 year, 89.7 % vs 87.0 %;
P
 = 0.594) and overall survival (median, 14 vs 16 months;
P
 = 0.493) between GK and fractionated CK groups. The incidences of radiation necrosis were also not different (12.3 % vs 15.8 %;
P
 = 0.443).
Conclusions
Despite slightly inferior dosimetric properties of CK, fractionated CK for large BMs appears to be as effective and safe as single-fraction GK for small BMs, representing fractionation as an effective strategy for enhancing efficacy and moderating toxicity in stereotactic radiosurgery for BMs.