21.01.2017 | ORIGINAL ARTICLE | Ausgabe 4/2017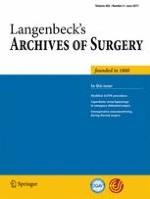 Experiences with surgically treated primary or secondary hepatic sarcoma
Zeitschrift:
Autoren:

René Fahrner, Sandra G. C. Dennler, Felix Dondorf, Michael Ardelt, Falk Rauchfuss, Utz Settmacher
Abstract
Purpose
Liver resection in hepatic sarcoma is rare, but other alternative treatment options are scarce. Surgery offers the only aggressive approach to achieve a tumour-free state. The aim of this investigation was to evaluate the outcome and survival of these patients at a single hepato-biliary university hospital.
Methods
Between January 2004 and July 2013, 896 anatomical liver resections were performed. Eleven liver resections (1.2%) were performed due to primary hepatic sarcoma or hepatic sarcoma metastases. The demographic and clinical parameters were collected from the institutional patients' records.
Results
In eight patients (83%), liver resection was performed due to hepatic sarcoma metastases. The surgical procedures were as follows: two patients (18%) had segmentectomy, six patients (55%) had hemihepatectomy or extended hemihepatectomy and three patients (27%) had multivisceral resections. In nine patients (82%), the resection margins were tumour free. In 55% (
n
= 6) of the patients, the maximal tumour diameter was greater than 10 cm. The postoperative morbidity was low with a Clavien-Dindo score of 2 (range 0–5). One patient died on postoperative day 2 after multivisceral resection. During the follow-up of 932 days (range 2–2.220 days) the 1-, 2- and 3-year survival rates were 91, 63 and 45%, respectively. Tumour recurrence was detected in seven patients (63%).
Conclusions
Liver resections in patients with primary or secondary hepatic sarcoma are rare. The main goal in these patients is to achieve complete tumour resection because chemotherapy offers no suitable alternative, but the long-term survival rates are limited because of high a recurrence rate even after aggressive surgical approaches.