01.12.2018 | Research article | Ausgabe 1/2018 Open Access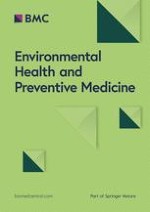 Expert clinician's perspectives on environmental medicine and toxicant assessment in clinical practice
Zeitschrift:
Autoren:

Nicole Bijlsma, Marc Maurice Cohen
Abstract
Background
Most clinicians feel ill-equipped to assess or educate patients about toxicant exposures, and it is unclear how expert environmental medicine clinicians assess these exposures or treat exposure-related conditions. We aimed to explore expert clinicians' perspectives on their practice of environmental medicine to determine the populations and toxicants that receive the most attention, identify how they deal with toxicant exposures and identify the challenges they face and where they obtain their knowledge.
Methods
A qualitative study involving semi-structured interviews with expert environmental clinicians in Australia and New Zealand was conducted. Interviews were recorded and transcribed, and themes were identified and collated until no new themes emerged.
Results
Five dominant themes emerged from 16 interviews: (1) environmental medicine is a divided profession based on type of practice, patient cohort seen and attitudes towards nutrition and exposure sources; (2) clinical assessment of toxicant exposures is challenging; (3) the environmental exposure history is the most important clinical tool; (4) patients with environmental sensitivities are increasing, have unique phenotypes, are complex to treat and rarely regain full health; and (5) educational and clinical resources on environmental medicine are lacking.
Conclusions
Environmental medicine is divided between integrative clinicians and occupational and environmental physicians based on their practice dynamics. All clinicians face challenges in assessing toxicant loads, and an exposure history is seen as the most useful tool. Standardised exposure assessment tools have the potential to significantly advance the clinical practice of environmental medicine and expand its reach across other clinical disciplines.